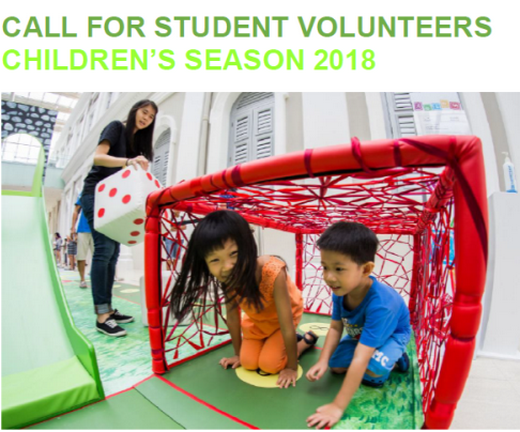 Presented in conjunction with the exhibition The More We Get Together: Singapore's Playgrounds 1930 – 2030, this year's Children's Season at the National Museum initiative invites young visitors to explore different types of play experiences at the museum.
Families can look forward to a fun line-up of interactive exhibits, hands-on activities, storytelling sessions, family workshops, engaging performances, and more!
Visit www.nationalmuseum.sg in May 2018 for the latest updates.
Dates: 20-22 April, 26 May to 24 June
Shift times: 9am-2pm or 2pm-7pm
*volunteers need to commit to at least 3 shifts.
Suitable for those who would like to work and have fun with children and families!
Interested individuals may sign up at https://goo.gl/forms/WfyNsLtMOLVclz3N2 by 14 April.