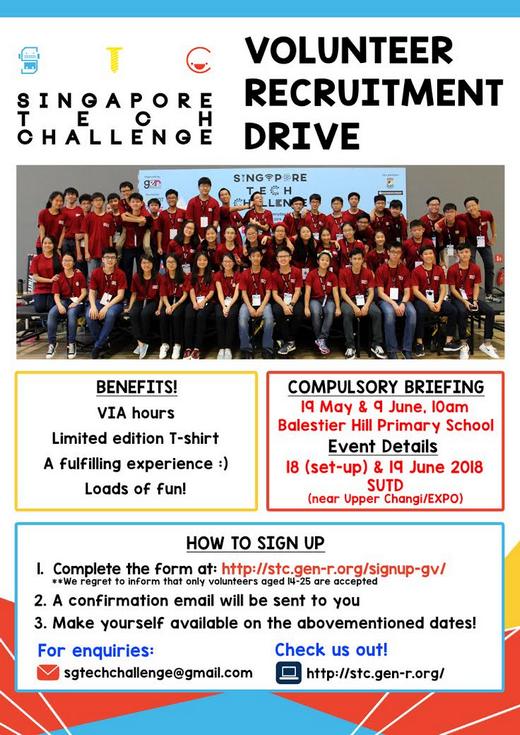 Enjoy volunteering? Love interaction?
Singapore Tech Challenge (STC) 2018 is here for you!
STC 2018 will be held on 19 June 2018 in Singapore University of Technology and Design (SUTD).
STC is a robotics competition mostly targeted at younger students (Primary/Secondary), where the focus is not on competing hard, but on HAVING FUN while engaging in friendly competition.
STC's robotics competition events are extremely simple, while having incredibly low registration fees, so as to allow large numbers of young individuals interested in robotics and technology to have a quality robotics competition experience, to develop on their interest at an extremely low cost.
To build on the fun atmosphere, STC is also an exciting carnival with fun game booths and fringe events that are open to all (parents, teachers, public, and especially you, the volunteer)!
Volunteer roles include referees, robot inspectors, team coordinators and scorekeepers for different competition segments, emcees, stage, general logistics and programmes helpers. Do not worry if you have zero experience in robotics, as you will be provided with the required training!
What are you waiting for? Join now @ http://stc.gen-r.org/signup-gv/
To find out more, visit http://stc.gen-r.org/
For any enquiries, please feel free to email sgtechchallenge@gmail.com