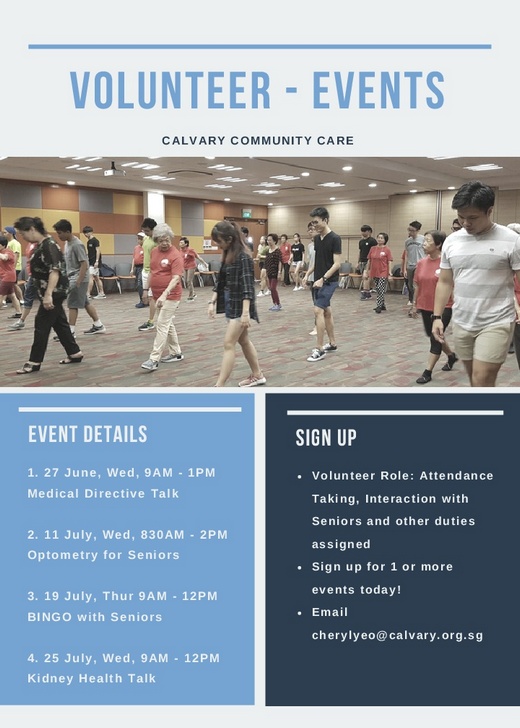 Calvary Community Care (C3) is a not-for-profit Voluntary Welfare Organisation that seeks to serve the needy in the community regardless of race, age, gender or religion. They are recruiting student volunteers for each of their programmes:
1. Befriender (Seniors)
Do you have passion to reach out to the elderly in Potong Pasir? We need you!
Pairs of volunteers will be assigned a senior to befriend through regular home visits, most of these seniors are less mobile and more prone to social isolation as they stay alone.
(Commitment: 6 months or more)
2. OTAGO & Rummikub (Every Tuesday, 9am to 1pm)
Calvary Community Care is organising a fall prevention exercise for seniors, as well as a boardgame activity (Rummikub) that improves the mental wellness of our seniors. If you would like to make meaningful use of your time on a weekday morning, sign up today!
(Commitment: 6 months or more)
3. Seniors Ad-hoc Events (refer to poster attached)
Together with the partners we collaborate with, C3 organises a variety of events to keep our seniors healthy and active. Join us to bring joy to seniors J
All senior programmes and meeting points for ad-hoc events are located at Potong Pasir, unless briefed otherwise.
If you're interested in any of the above opportunities, register your interest via this link: http://calvary.sg/index.php/join-us/as-volunteers
OR email Cheryl at cherylyeo@calvary.org.sg.