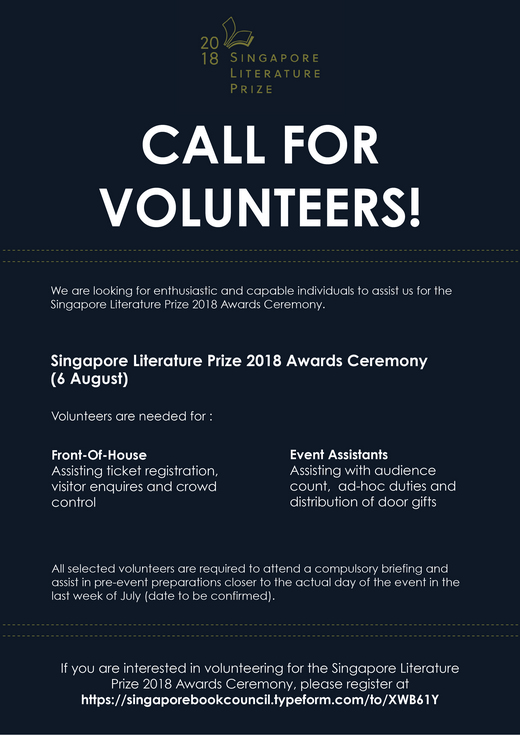 The Singapore Book Council is looking for passionate and capable volunteers to assist with the Singapore Literature Prize 2018 Awards Ceremony on 6 August 2018.
The Singapore Literature Prize (SLP) is a biennial competition open to Singapore Citizens and Permanent Residents that aim to promote and celebrate Singapore's literary talent.
Energetic and positive individuals are needed to assist in ensuring the ceremony runs smoothly.
Please see below for more details:
GENERAL REQUIREMENTS
– Applicants must be aged 18 and above. Applicants below the age of 18 must gain consent from a parent/guardian and submit a consent form prior to the event.
– Successful applicants are required to attend a pre-event briefing and must be able to volunteer for a minimum of 6 hours on 6 August 2018.
– Experience in events management preferred, but not strictly necessary.
VOLUNTEER BENEFITS
– As a volunteer, you will receive a Certificate of Appreciation upon successful completion of your duties.
– Free entry to the SLP Awards Ceremony.
– Experience what it's like to run a prestigious award event, go behind-the-scenes and meet your favourite writers.
All selected volunteers would be required to attend a compulsory briefing and assist in pre-event preparation closer to the actual day of the event in the last week of July (date to be confirmed)
The call for volunteers for the SLP 2018 Awards Ceremony ends on 23 July 2018.
To apply, please register at: https://singaporebookcouncil.typeform.com/to/XWB61Y
Should you have any queries, please email programmes@bookcouncil.sg