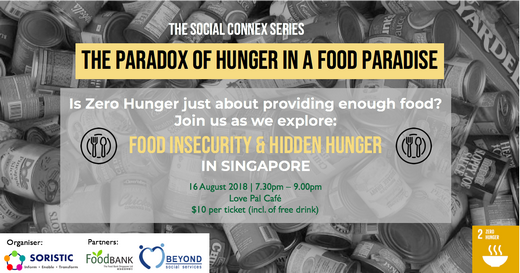 Soristic will be holding a talk titled "The Paradox of Hunger in a Food Paradise". This talk will explore Hidden Hunger and Food Insecurity in Singapore.
Details are as follows:
Date: 16 August 2018 (Thursday)
Time: 7.30pm – 9.00pm
Venue: Love Pal Cafe (8 Queen St, Singapore 188535)
Soristic is looking for volunteers to assist with participant registration, distribution and collection of feedback forms, ushering, setup, photography and other needs.
On a more long-term basis, Soristic is currently looking for part-time volunteers to help with some research on various social issues and event planning. Commitment required will be about 2 half-days per week, but this can be discussed. If you are interested in working to tackle social issues in Southeast Asia, do get in touch!
If you're interested, do get in touch at connect@soristic.asia.