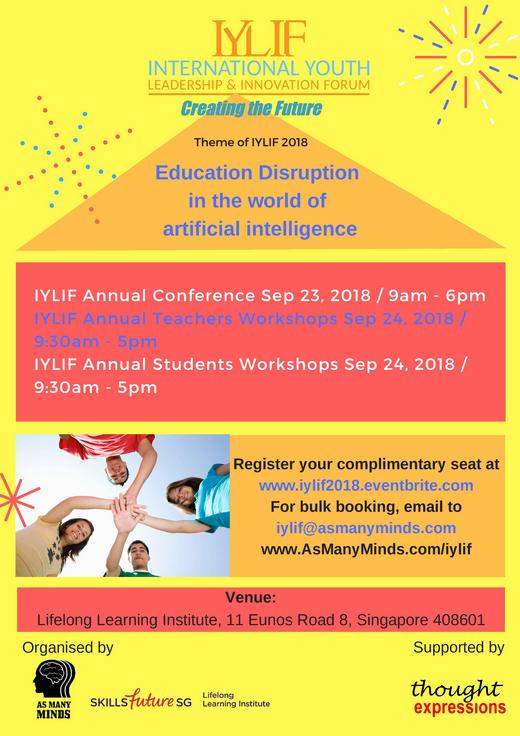 International Youth Leadership and Innovation Forum (IYLIF) is on 23rd and 24th of September in Singapore at the Lifelong Learning Institute, 11 Eunos road. The organisers are looking for enthusiastic people to be a part of the volunteering team at IYLIF 2018.
Express your interest by providing your information via email at relations@asmanyminds.com no later than 12th September 2018
IYLIF is a forum that brings together young adults, educators, industry experts, thought leaders and parents from around the world to discuss the pressing concerns about the future of today's youth.
IYLIF 2018 is divided into two days:
Day 1 (September 23, 2018): IYLIF Annual Conference
Day 2 (September 24, 2018: IYLIF Annual Workshops for students and teachers
**BENEFITS**
• Certificates will be given to the volunteers for their contribution
• Refreshments during breaks
• It will be an enriching and learning experience for the students
• The will gain experience working with other people and develop new interests
• Opportunity to interact with speakers and experts from around the world
**REQUIREMENT**
• All volunteers must be 15 years and older
• Must be pro-active, reliable and punctual
**RESPONSIBILITIES**
The role will involve a range of duties including but not limited to providing information at registrations, technical assistance, video interviewing and overall smooth running of the conference.
Details of the event are provided in the poster and at www.asmanyminds.com/iylif2018
Note: Parents may book their complimentary seats at the conference at www.iylif2018.eventbrite.com.