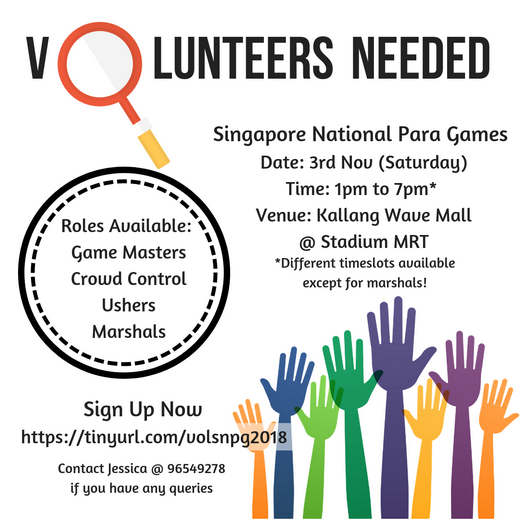 Venue: Kallang Wave Mall near Stadium MRT (may be at Sports Hub as well)
Date: 3rd November (Saturday)
Time: 1pm to 7pm (with different timeslots available for Game Masters, Crowd Control and Ushers) and 1pm to 4pm for Marshals
Help needed:
Game Masters – Assist in the running of game booths for the "Find Your Talent" Festival. Games include 6 game booths and 1 redemption booth where the public/PwDs will get to experience activities related to the different para-sports and engage different senses in the booths.
Crowd Control – Assist in managing the flow of people to the different game booths
Ushers – Assist in directing people to the different ongoing activities
Marshals – Assist in forming human barricades to ensure the safety of onlookers, the public and the cyclists during the para-cycling mini game. Will be required to stand and staying vigilant throughout.
Sign up at https://tinyurl.com/volsnpg2018 to choose your timeslots.
For more information about SNPG 2018, do visit https://sdsc.org.sg/singapore-national-para-games-2018/
If you have any queries, do contact Ms Jessica at 96549278 or JLIMJIAY001@e.ntu.edu.sg