Posted by SG Volunteer Team on February 4th, 2019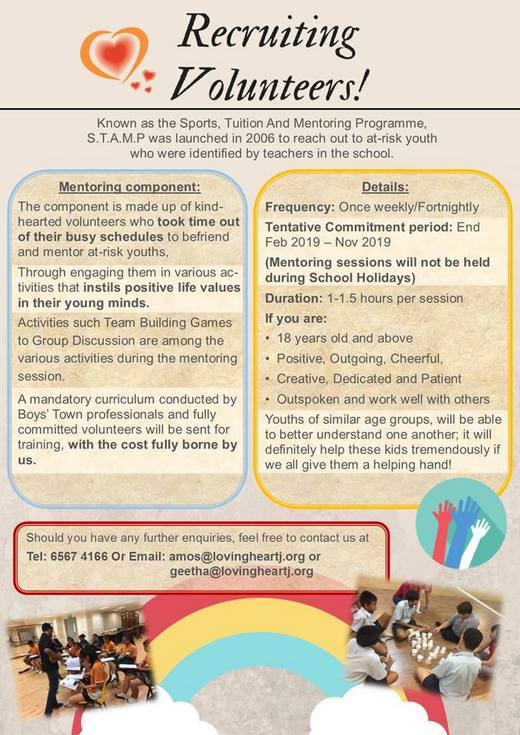 Description:
Loving Heart's Sports, Tuition and Mentoring Programme (S.T.A.M.P) was launched on 13th February 2006 to target underprivileged children and youth within Jurong GRC in Primary & Secondary Schools.
Objective:
To impart values like integrity and empathy, through games, videos, and other engaging activities, to youth at risk.
Location:
Mentors will be assigned to the participating primary or secondary schools within Jurong. Currently there are 4 S.T.A.M.P schools.
Key Roles and Responsibilities:
· To serve as a positive role model for the student mentees.
· To help build self-esteem and motivation in the mentees, and to assist them with setting goals to achieve academic and personal success.
Pre-requisites:
· Preferably be at least 18 years and above.
· Ability to communicate with youth/kids openly and without judgment.
· Willing listener, encouraging and supportive.
· Interest in needs and concerns of persons with internal and external barriers to achieve success.
Time Commitment:
· Available to mentor on weekdays, after school hours.
(1.5 to 2 hours per session, fortnightly or weekly depending on the school's schedule)
· Able to commit for at least 6 months for mentoring.
· Programme Duration: 10- 20 sessions of mentoring per school, per year.
Training on understanding youth and conducting sessions will be provided upon clearing selection interview.
Sessions are ongoing every week.
Please email geetha@lovingheartj.org / amos@lovingheartj.org or call 6567 4166, if you are interested to be a part of this project.