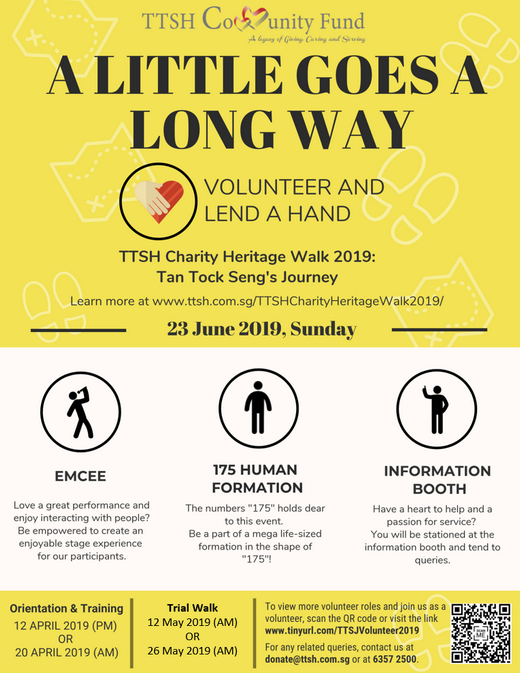 In keeping with its founder, Mr Tan Tock Seng's legacy of giving, Tan Tock Seng Hospital set up the TTSH Community Fund in 1995 to improve the quality of life of its patients and the community. The Fund also supports healthcare research, innovation, and training for its staff and the community to deliver better patient-care.
TTSH actively supports over 2,500 needy patient cases, especially the elderly and those who fall through the cracks of the system, and those who are unable to receive help from mainstream charitable agencies.
As part of the hospital's 175th anniversary commemoration, TTSH Community Fund is organising the inaugural 'TTSH Charity Heritage Walk 2019: Tan Tock Seng Journey', which brings participants to various historical sites associated with Mr Tan Tock Seng and his family.
Date : 23 June 2019, Sunday
Time : 6.45am (Flag-off)
Location : Pearl's Hill, Chinatown
Guest-of-Honour : Mr Heng Swee Keat, Minister for Finance
Be part of this milestone event! Join as a volunteer at TTSH Charity Heritage Walk 2019: Tan Tock Seng's Journey.
A variety of volunteer roles are available. Learn more by clicking here.