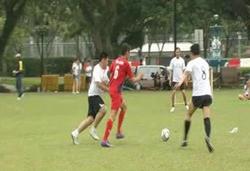 A friendly football tournament organised by Singapore Pools and the Singapore Sports Council has raised S$350,000 for charity.
Part of this amount will go to SportCares, a new initiative which aims to develop character and build community ties through sports.
One of the teams involved in the tournament was a team of MPs.
They were one of the 28 teams in the tournament, dubbed "Football With A Heart". To take part, each team had to pledge between S$5,000 and S$10,000. The money collected is donated to nine charities.
The nine beneficiaries are: Apex Harmony Lodge, Bo Tien Welfare Services Society, CARE United, Jamiyah Children's Home, Ren Ci Hospital, SportCares, The President's Challenge, and social enterprises – Ikhlas and Laksania.
SportCares will receive S$30,000.
The initiative, which is part of the Vision 2030 Project, will make sports more accessible to the underprivileged by offering funding, securing sports facilities and engaging volunteers to provide coaching.
SportCares is the first recommendation to be implemented under Vision 2030. In its latest report, the committee has made its 20th recommendation. If approved, the recommendation will make funding available for a wider variety of recreational sporting activities.
SportsCares was launched by Mr Chan Chun Sing, the Acting Sports Minister, and chairman of the Vision 2030 steering committee, on Saturday evening.
Mr Chan said: "The SportCares movement aims to provide more support for meaningful programmes so as to amplify the positive impact on the community, and to grow opportunities and capabilities for the vulnerable segments in society.
"Together, we can better harness the resources out there in public, private and people sectors, so that we can use sport more effectively to answer some of the needs in the community."
This article was first published on CNA