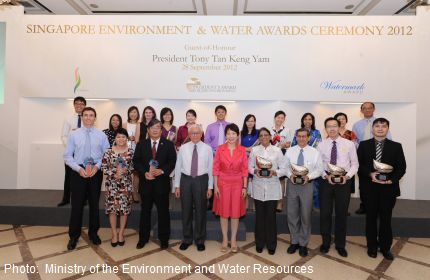 Nineteen champions were honoured for their outstanding, eco-friendly initiatives on Friday.
Three organisations were conferred the prestigious President's Award for the Environment.
Four were awarded the Public Utilities Board's (PUB) Watermark Award reserved for achievements in the area of water sustainability and 12 others received the National Environment Agency's EcoFriend Award for their contributions towards environmental protection.
President Tony Tan Keng Yam gave out the awards at a ceremony at the Istana.
The four PUB's Watermark Award winners include Bukit View Secondary School, Mr Terence Kam, Anchor Green Primary School, and the Singapore Corporation of Rehabilitative Enterprises (SCORE).
The 12 EcoFriend Award recipients include Ms Masayo Hada, Mr Tan Hang Cheong, Ms Tan Pau Cheng, Ms Khong Sow Cheng, Ms Yee Kai Ling, Ms Fuziah Bte Muhamad Taha, Mr See Boon Tiam, Ms Teng Siew Lee, Mr Hu Ching, Ms Tan Wei Rui, Mr Quek Baifeng, and Ms Teh Yi Ying.
The theme uniting the winners of this year's Environment and Water Awards is that all Singaporeans must play a part in keeping Singapore clean and green.
Fuhua Primary School's principal and EcoFriend recipient, Ms Fuziah Bte Muhamad Taha, said: "Children can be the best teachers because they are so candid. They can go back and tell their parents that their parents are doing the wrong things, and they can be the ones being the role model. I've seen children telling their parents to remove the trays from the table at hawker centres."
Mr Quek Baifeng from Hwa Chong Institution and an EcoFriend recipient said: "Youths can be the catalyst for Singapore to take a big step forward, in terms of issues of cleanliness, issues of climate change. And youths can be spearheading these movements, and encouraging their peers to move forward as one group, in ensuring a better future for Singapore."
This future must begin from an early age and what a better way to start than with a book on pollution produced by children, with the help of their teachers.
A pupil from Anchor Green Primary School, Rency Likin, said: "The book is about this tree at a wetland – it's called Nira – and it lives by a river. But then, there's an evil man who doesn't really like her, so he decides to kill her by polluting the river. The villagers near where Nira stays find out, and they try to save Nira by getting the evil man to go and clean up the river and apologise to Nira."
The recipients for the President's Award for the Environment include HSBC Singapore, Marsiling Secondary School, and Panasonic Asia Pacific Pte Ltd.
Panasonic's general manager of Environment and External Affairs Group, Low Beng Huat, said: "As a public entity, it's important to do something to contribute to environmental protection. We always believe that to put environment central to all our business activities, whether it's product development, manufacturing processes, we'll try to incorporate these green factors into all these processes."
The Ministry of Environment and Water Resources hopes the awards will inspire more Singaporeans to get involved in safeguarding the environment.
This article was first published in CNA.