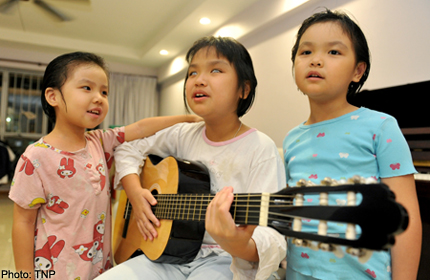 Her vision is limited to some light, shadows and colours.
But that hasn't kept Adelyn Koh, 11, from pursuits like music and in-line skating.
Now, she's hoping a CD of her own piano compositions can raise funds for an operation that will help her see.
Explained her mother, Ms Mary Lim, 39: "There's still a long way to go. I can't be with her forever."
Adelyn was born with opaque corneas, or Peter's Anomaly, a rare congenital eye disease.
She had four unsuccessful corneal transplants in the first year of her life.
Last year, Ms Lim came across news of Boston Kpro, an artificial corneal transplant – different from the natural transplants that Adelyn's body had rejected.
She contacted Dr Leonard Ang of The Eye & Cornea Transplant Centre, who said there could be new hope for Adelyn.
But cost is a problem.
Surgery is expected to cost about $40,000 per eye, far more than what Ms Lim, a divorcee, can afford.
She earns $1,500 a month as a before-and-after-school student care teacher.
Adelyn has two younger sisters, aged five and six years old, who are healthy.
"I didn't want my Adelyn to feel like mummy had to beg people for help," said Ms Lim.
That is how the idea of making and selling the CD came about.
Adelyn had been composing music for some years.
When Ms Lim first sent her for piano lessons at the age of three, she did not have such expectations of her daughter.
She said: "I told the teacher it didn't matter how long it would take her to practise a song; it was more important for her to enjoy the process."
But Adelyn turned out to have talent.
Mandarin duet
In October last year, she teamed up with Singapore Idol 3 winner Sezairi Sezali to sing a Mandarin duet for the President's Star Charity.
Said Adelyn, who recently passed her Grade 4 piano examinations with distinction: "I like to hear music. When I play the piano, sometimes I get so engrossed in playing that someone will be calling and I don't hear them."
She composes by thinking of the beginning or the middle of a song and practising it. From there, she figures out sections and accompaniment which could be built around the "simple tune".
Constructing the CD's four piano pieces took her two years, the Primary 5 pupil at Lighthouse School said.
"I play randomly – I play a tune for five minutes and change it as and when I like."
Last month, Ms Lim produced 500 copies of Adelyn's CD with the help of friends.
She then sold the CDs "Little Dream" to friends for $20 each. It was sold out within two weeks.
A second instalment of 1,000 copies has seen much demand following reports in Chinese daily Lianhe Wanbao and online portal AsiaOne.
Said Ms Lim, who had e-mail enquiries from as far as Brazil and Switzerland: "We didn't know how sales would go, and everyone's been so caring.
"We'd like to raise enough to cover the cost of the operation, nothing extra."
She has not yet decided whether to print more copies of the CD.
In her five-room Punggol home, the living room is kept as clear space. Clothes racks, the dining table, and a Christofori piano are placed by the walls.
Adelyn also has a small violin, and is taking her Grade 1 violin examination this week.
Ms Lim said she tries to ensure Adelyn has a fruitful day. To that end, she allows her to try out all sorts of activities. At home, Adelyn listens to audio books and educational CDs.
Ms Lim has seen some of the visually impaired people at centres waiting for people to come to them before they get to walk about, and is determined that life for her daughter will be different.
She said: "I want to fill up her life."
Adelyn said she isn't sure what will happen, but "there are a lot of things I want to be".
"A concert pianist, or a piano teacher. Maybe an author."
Those interested in Adelyn's story can visit adelynxinhui.blogspot.com