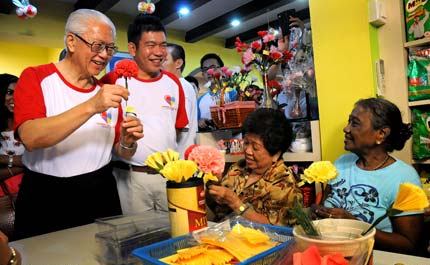 Once a week, Ms Alice Tan, 68, takes a five-minute walk from her home to a HDB block in Bendemeer Road.
There, she spends at least three to four hours with its elderly residents, simply talking and listening to them.
And the retiree has been doing so for the last seven years.
She is one of about 1,000 volunteers with the Lions Befrienders, helping out 2,700 vulnerable seniors in their Befriending and Outreach programmes.
"Every time they see me coming, they immediately open their gates and welcome me with big smiles," says Ms Tan.
She told The New Paper on Sunday that just 20 minutes with these elderly folk can make their day.
She's also grown quite close to them – if they don't answer the door, she goes looking for them in the nearby market or hawker centre.
"If they don't answer, I get very worried because it may be that they are hurt and unable to call for help," says Ms Tan.
Her spirit of compassion and volunteerism is exactly what a new initiative – The Volunteer Drive – wants to inculcate in more Singaporeans.
A new part of the President's Challenge, the Volunteer Drive was launched by President Tony Tan Keng Yam yesterday.
"The purpose of this new initiative is to show that all of us can make a difference. The President's Challenge is not just about raising money… (it) can be a platform to promote worthwhile causes which Singaporeans hold dear," he said at a doorstop interview when he visited some elderly residents at the Lions Befrienders centre at Bendemeer.
"Through volunteering, every Singaporean can participate in making Singapore a more caring and compassionate society," he added.
The deputy director of SG Cares, the volunteering division of National Volunteering and Philanthropy Centre, Mr Hosea Lai, 37, said: "In the past month, about 23 per cent of Singaporeans have volunteered for various causes. And I believe that the President's push for volunteerism will create more awareness."
Yesterday, the President also visited several elderly residents who are regularly visited by Lions Befrienders volunteers.
One of the residents was 74-year-old retiree Abdul Wahab. He said of Ms Tan's weekly visits: "I am very happy whenever I see her, because she always brings me and my wife bread and cakes."
"It's very nice to talk to her and tell her about my life ," said Mr Wahab, who was in Malaysia with his wife for a short holiday.
Ms Tan helped him to prepare for the President's visit.
"She helped me clean my fan on Tuesday – just for the President," he said with a smile.
Ms Tan told TNPS that volunteering has become a part of her life, and that it had been a fulfilling and meaningful experience.
"I get a lot of joy from making them happy with whatever I can do."
This article was first published in The New Paper