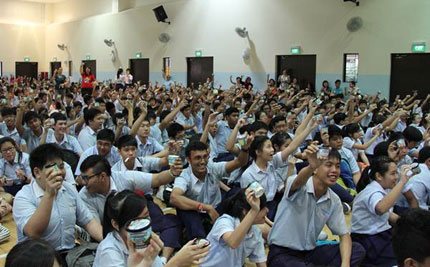 Ngee Ann Secondary School and Ben & Jerry's broke the Singapore's Book of Records of the "Most Number of People Eating Ice Cream at the Same Time" yesterday, with a total of 1,558 teachers, students, alumni, parents and staff enjoying the yummy Ben & Jerry's ice cream for a good cause.
Participants were encouraged to donate for each dollop of ice cream from Ben & Jerry's, with all proceeds raised from the ice cream activity going to less privileged students supported by the School Pocket Money Fund.
Together with Ngee Ann Secondary teacher's day celebration charity initiative, a total of more than $10,600 was raised for the Fund.
This article was first published in Asiaone