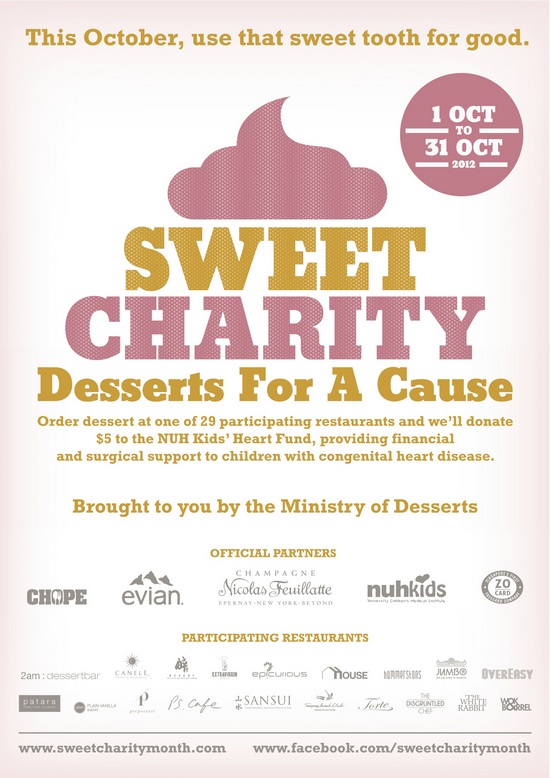 Following its successful launch last year, Sweet Charity Month returns this October with even more restaurants serving up tantalizing treats that allow you to use your sweet tooth for a good cause. During the entire month of October, participating restaurants donate a "slice" of their dessert sales to the NUH Kid's Heart Fund.
Known as The Ministry of Desserts, our organizers have a sweet spot in mind for 2012 – our target is to raise $100,000 to benefit this worthy cause. Below are a few ways you can dig in and help out:
• $5 from each signature dessert ordered at participating restaurants will directly benefit the NUH Kid's Heart Fund.*
• 30% of proceeds from select whole, takeaway desserts (cakes, pies, baked goods) will be donated.
• Chope will donate $1 for each dessert ordered online.
• If you can't decide what to order, come to the Sweet Charity Gala on September 27 and try them all!
*For Chui Huay Lim Teochew Cuisine and Jumbo Seafood Restaurants, 30% of each dessert ordered will be donated.
SWEET CHARITY GALA
Our Gala kick off event will be held Thursday, 27 September, at The White Rabbit on Dempsey Hill. Each participating restaurant will serve a special sneak preview taste of its signature Sweet Charity dessert. A total of 18 unique sweet treats will be served from our 29 participating restaurant locations.
The Champagne will be flowing thanks to Nicolas Feuillatte, as well as mineral water provided by Evian & Badoit. Music courtesy DJ KFC. Proceeds from each ticket benefit NUHS Kids' Heart Fund. Cocktail attire. To purchase your tickets, click here.
ORDER ONLINE
Chope will donate $1 for each order placed online for the purchase of a whole cake or takeaway dessert. Participating restaurants will arrange for payment and pickup directly. To order online, go to the desserts page, and select your dessert.
NUH Kid's Heart Fund
The NUH Kids' Heart Fund is one of the programmes under the NUHS Fund Limited addressing the medical needs and concerns of children with congenital heart disease. The Fund subsidizes the surgery costs for treating financially needy children with congenital heart disease. In certain cases, the Fund will subsidize the full cost of surgery required. Money raised from all desserts sold during Sweet Charity Month and its gala launch event will directly benefit this fund.
CONTACT US
For more information, please visit Sweet Charity's facebook page.