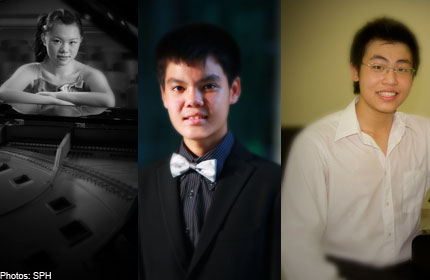 Budding young pianists performing in the annual ChildAid charity concert will get to play on Steinway grand pianos – not just on one or two, but three.
The two-night show this year will be held on Dec 7 and 8 at the Marina Bay Sands Grand Theatre, the venue sponsor for ChildAid till 2014.
Steinway Gallery and the organisers of ChildAid, an annual concert in aid of two children's charities – The Straits Times School Pocket Money Fund and The Business Times' Budding Artists Fund – today announced that it will loan two units of Steinway Model B pianos to the show for three years – from this year to 2014.
In addition, Steinway Gallery will also provide to ChildAid a 2.74m Concert Grand, Steinway Model D (priced at S$298,000) at a highly subsidised rate, for a fund- raising project.
Ms Celine Goh, General Manager of Steinway Gallery, who travelled to the Steinway factory in Hamburg, Germany, to specially select the Model D, said: "I picked this piano from among six units for its evenness, pristine sound quality and a very distinctive maturity in tone."
"Many aspiring pianists crave to play on a Steinway, but few get such an opportunity. And this is really the link and the difference: At ChildAid, we are not only looking for the most technically-skilled pianist, we're also looking for a player who can interpret and express the work of the composer's intended emotional quotient to execute the expression to the fullest."
"I believe a Steinway piano can add that special touch and help elevate the performance of the budding ChildAid pianist."
The other two pianos – Model B Steinway, measuring 2.11m, are often referred to as "the perfect piano", which pianists find wonderfully balanced and versatile.
Steinway Gallery will also invite three contestants of the recent Southeast Asia Steinway regional finals to perform at this year's ChildAid concert. There is the Grand Prize winner Hsieh Wei Ting, 16, from Taiwan, who went on to represent Southeast Asia at the International Steinway Festival in Hamburg, Germany, in September.
The other two performers, both 15, are Nguyen Le Binh Anh, from Vietnam, and Gun Chaikittiwatana, from Thailand.
Mr Alexander C. Melchers, General Manager of C. Melchers GmbH & Co which owns Steinway Gallery Singapore, said: "Promoting Singapore as a hub for musical education and development is a matter close to our heart.
"Hence, we are happy and proud to be working with ChildAid and to support this event. ChildAid both raises the awareness of the musical excellence of our youth and it makes a significant contribution to the needy young."
Expressing his gratitude to Steinway for giving budding ChildAid pianists the opportunity to play on a Steinway Grand, Mr Alvin Tay, chairman of the organising committee for ChildAid 2012, said: "We, as well as our ChildAid performers, are thrilled with the loan of these three lovely pianos.
As ChildAid is also a showcase of excellence and talent, the sponsorship of these pianos is a fitting piece to our collaboration, and will boost our effort to nurture and reach out to young pianists."
"I am sure it will motivate and inspire the aspiring pianists to want to perform even better," added Mr Tay, who is also Editor of The Business Times.
ChildAid, launched in 2005, showcases talents under the age of 19, and is in aid of The Straits Times School Pocket Money Fund and The Business Times Budding Artists Fund.
It is organised by The Straits Times and The Business Times, two newspapers published by Singapore Press Holdings. Some past ChildAid performers have won scholarships overseas to further hone their talent.
Into its eighth edition, this year's ChildAid concert is centred on the theme "The Electric Edition" and will feature more than 200 performers. The guests of honour will be President Tony Tan Keng Yam and Mrs Mary Tan.
The Straits Times School Pocket Money Fund provides needy school children with school-related expenses, such as pocket money to buy meals during school recess and transport fares to go to school, while The Business Times Budding Artists Fund provides funding to nurture the artistic talents of underprivileged children.
Started as a community project on 1 October 2000, the School Pocket Money Fund became a charity trust in October 2011, and received an Institution of Public Character (IPC) status on 1 January 2012. Over the past 11 years, the Fund has raised over $54 million, helping over 94,000 cases of needy children from low-income homes.
The Business Times Budding Artists Fund was launched in 2004 by The Old Parliament House Limited and adopted by The Business Times on 11 May 2005 and provides full arts sponsorship for artistically gifted children from underprivileged families to develop their talents.
In the last seven years, it has reached out to over 8,000 children through a variety of programmes including a systematic arts education programme, arts camps, workshops, and signature performance events.
Last year's ChildAid concert raised a record $1.88 million.
This article was first published in AsiaOne