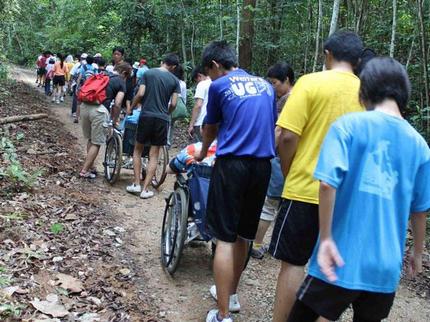 Ten young beneficiaries from the Society for the Physically Disabled (SPD) embarked on their very own Outward Bound adventure with a scavenger hunt in the rustic environment of Pulau Ubin on Saturday.
The half-day event was organised by 16 Outward Bound Singapore (OBS) youth participants as part of their 7-day programme to touch the lives of others in the community.
Said 13-year-old Low Wee Chong, who is physically handicapped: "Many think it is a waste of time to hang out with people like us, but the friends that we made here at OBS are fantastic! They make me feel we are just normal like them."
The student organisers were nominated from different secondary schools for this OBS leadership programme based on legendary explorer Sir Ernest Shackleton's Trans-Antarctic Expedition in the year 1914. The past five days have seen these students on various sailing and trekking expeditions before taking ownership of the planning for this event. This empowers them to carry out the service portion of the Outward Bound motto. "To serve, to strive and not to yield".
Said OBS participant, Ms Yeo Xin Rui, 14, from Changkat Changi Secondary School, "The communications skills I have picked up in OBS comes in handy when we have to plan for this event. If it is not for OBS, I would not have the chance to serve the less fortunate. I am inspired to continue to bring joy to the lives of others."
Source: Asiaone