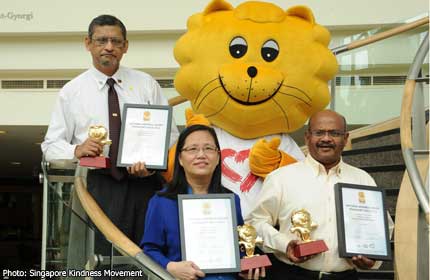 He braved the rain one morning in March, got soaked and was honked at by impatient drivers behind him as he had stopped his cab.
But ComfortDelGro taxi driver Thomas Charles, 58, did so to help an elderly woman.
After he saw the woman fall off her wheelchair along a driveway at Gleneagles Hospital, the taxi driver of seven years asked the passenger he just picked up if he could help her. The grateful woman offered him a reward, which he declined.
He said: "Service comes from the heart. When we are good to people, we feel good inside, too." When Mr Charles returned to his cab, he reset the meter for his passenger, as he did not want her to pay more.
The passenger later wrote to Mr Charles' company to commend him for his "remarkable selflessness" and his "positive attitude and professionalism".
Yesterday, Mr Charles was one of three people honoured with a Kindness Champion award at this year's National Kindness Award – Transport Gold ceremony.
The two other Kindness Champions are SMRT Taxis driver Abdul Aziz Kassim, 55, and TransitLink customer-service officer Helen Wong Siow Yong, also 55.
Held at the University Cultural Centre, the annual kindness award ceremony for the transport sector had a record number of 405 staff from 13 transport companies and two associations recognised for going the extra mile. This figure trumped last year's record of 316 recipients.
Speaking at the award ceremony, Transport Minister Lui Tuck Yew said transport infrastructure, or "hardware" improvements, needs to be complemented with commuter-centric service, or the "heartware" of the transport system.
Source: my paper