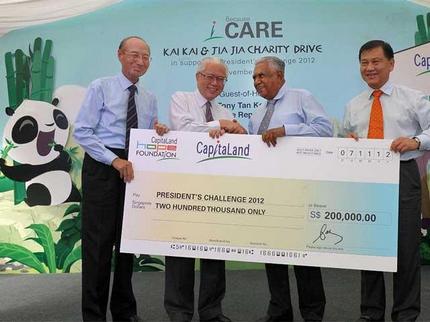 Some 50 beneficiaries of the President's Challenge on Wednesday had a special preview of the Giant Panda exhibit at the River Safari.
Hosts CapitaLand launched a donation drive and said it's confident of exceeding its target of raising funds for this year's President's Challenge.
Kai Kai and Jia Jia have been the talk of the town since they arrived in September.
And so CapitaLand is riding on their popularity to raise funds for the President's Challenge.
The sale of its limited edition panda-themed philatelic frames has so far raised S$200,000.
And a cheque for that amount was presented to President Tony Tan Keng Yam at the Giant Panda Forest.
The 10 donors are DBS Bank, DCA Architects Pte Ltd, J.P. Morgan (S.E.A) Limited, Morgan Stanley Asia (Singapore) Limited, OCBC Bank, Rajah & Tann LLP, RSP Architects Planners & Engineers (Pte) Ltd, Shimizu Corporation, Standard Chartered Bank and The Hong Kong and Shanghai Banking Corporation Limited.
Each philatelic frame contains a gem-encrusted illustration inspired by the special Kai Kai and Jia Jia commemorative stamp series commissioned by Singapore Post and is handcrafted by artisans over 14 days.
More panda-themed items including eco-bags will go on sale and CapitaLand is confident that the sales will help it exceed its target of S$350,000.
Members of the public can get their hands on the bags priced at S$20 at customer service counter and sales booths of participating shopping malls. For every pair of panda bags sold, S$10 will go towards the President's Challenge to benefit underprivileged children.
The funds will go towards helping underprivileged children.
It includes the 50 children beneficiaries from Infant Jesus Homes & Children's Centres and the Society for the Physically Disabled who were treated to an exclusive preview of the panda couple.
Susan Leen, CEO of Infant Jesus Homes & Children's Centres, said: "Support in this manner is very important because this is very much a community support to help this sector in the community. What we also want to impress on the children is that they are now at a phase where they are receiving help from the community, so there will come a point in time when they are stronger, they are more confident and then they will be giving back to the society."
The beneficiaries were also hosted to an educational trail called PEEK or Providing Educational Exposure for Kids.
The education trail at the Giant Panda Forest is part of a series of giant panda conservation outreach programmes for underprivileged children. The aim is to educate them on the importance of wildlife conservation and biodiversity.
Source: CNA