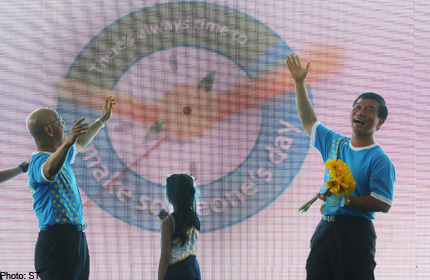 In the coming months, you may encounter volunteers stationed at food centres, reminding or persuading you to return your crockery to the designated return trays.
Dr William Wan, general secretary of the Singapore Kindness Movement, said it hopes to rope in students or retirees to be return tray "ambassadors".
They will fan out islandwide to crowded food centres on weekends to urge customers who leave behind their plates and utensils to clean up after themselves.
"Cynics might say that such acts ought to be spontaneous, but there are always others who need some reminders to cultivate such habits," said Dr Wan.
He was speaking to reporters on the sidelines of a concert held at the VivoCity shopping mall to celebrate World Kindness Day on Tuesday.
The concert featured cheerleading and musical performances by students.
Comedians including Selena Tan and Kumar also delivered stand-up comedy involving real-life incidents of graciousness.
More than 1,000 members of the public also opened up the movement's characteristic yellow-daisy umbrellas in formation to mark World Kindness Day.
The concert is the culmination of a year-long campaign to nudge Singaporeans towards simple acts of kindness in their daily lives.
The movement launched its Kindness@Work initiative in March, encouraging employees to bring kindness to workplaces.
Last month, the first nationwide Kindness Conference was held. It brought together 500 community, student and religious leaders to brainstorm ideas on how to transform the country into a kind and gracious place.
Dr Wan said the movement has been seeing more individuals stepping up to practise kindness.
One of them is radio DJ Emily Teng. The 25-year-old initiated a one-week project in June, when members of the public were encouraged to pledge acts of kindness on cards which were later picked up by other passers-by who might then be inspired to carry them out.
Ms Teng and her friends set up booths in various MRT stations and offered snacks such as cupcakes and yogurt to those who wrote down their pledges.
"Kindness does not have to be shown on a particular day, so we chose a random week to do this to show that it can be done at any time," she said.
Source: The Straits Times