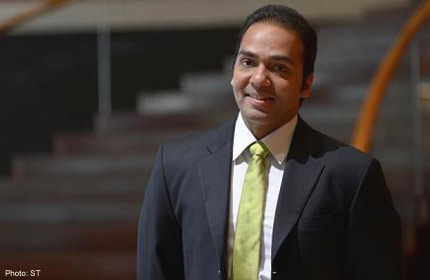 His love for writing has taken him across Asia in the last 25 years – from working with prominent Indian journalist Dilip Thakore in Mumbai at Datamatics doing corporate communications work to being the spokesman for Fortune 500 companies such as Procter and Gamble in Singapore.
Now, public relations veteran Anthony Rose has added another job title to his resume – that of published author.
The 43-year-old Singaporean recently released a memoir of sorts, using the life lessons from his father to share the stories of corporate leaders and other high achievers he has met over his life and career so far.
"I write because I love to write. It's what gives me pleasure. And I have written this book because my dad's advice is too good for me not to share it," said Mr Rose in his book, Daddy's Logic – Live A Life Of No Limits, No Excuses, No Regrets.
Having worked on the book for three years, the Hong Kong-based Walmart vice-president of corporate affairs now wants to give away the proceeds from the sale of his book to help build 10 homes for Habitat for Humanity across South-east Asia.
It is the first time an author has donated all his proceeds from a book sale to the organisation here, said Mr Yong Teck Meng, national director of Habitat for Humanity Singapore, which takes volunteers to developing countries to build homes.
Mr Yong said he was initially highly sceptical after Mr Rose made contact in May.
"In my line, I have a lot of people walking through the door who say they will solve world poverty and all that," he said.
"Some are really well-meaning, but they don't have the tenacity to see it through, or the idea just sucks. But here is a guy who actually went through with it. That is a pretty impressive thing."
Mr Rose told The Sunday Times that the idea for his book was inspired by his late father, Mr Charles Albert Rose, whose life lessons he began to appreciate only much later in life.
It was another lesson he learnt from his parents which led Mr Rose to donate all the proceeds. Seeing his mother give away all the sweets and sweetmeats they kept at home to other families reminded him that one does not need to have a lot to give back.
His path to writing a book, however, has not been without its challenges, said Mr Rose, who is not married. After graduating with a master's degree in geology, Mr Rose, then 21, decided he did not want to spend months on end in the middle of the ocean on a drilling rig.
He wanted to write.
So he took up a job paying US$18 a month to work with Mr Thakore. The money was barely enough to pay the bills, he said.
"I would choose between a half plate or full plate of food. If I decided to have a full plate, with chicken, the next day I would starve," he said, chuckling.
Still, he managed to save enough to attend evening classes for a degree in communications from the Xavier Institute of Communications in Mumbai.
Today, more than 20 years on, Mr Rose is finally a published author of a best-seller. He had thought that the hard part was over after spending his evenings and weekends over three years to pen his book. Instead, like many authors before him, Mr Rose was rejected over and over again by publishers.
Once he found someone willing to give his book a print run, however, his decision to donate every single cent of his royalties to charity came easy.
"I used to love fast cars… but the Ferrari dream has gone and the Habitat for Humanity one has come. I think I would feel guilty if I owned a car like that," he said.
He hopes to sell enough copies of his book to fulfil his mission with Habitat for Humanity. He already has plans to deliver his first cheque of $2,500, which would be enough to build a home in Thailand in January next year.
That the book made Singapore's best-seller list for the first six weeks after it was launched in July is also testament to Mr Rose's public relations and marketing skills.
A relentless marketing campaign from Mumbai to Miami, a large network of contacts, and the fact that he features the personal stories of more than 50 people raised the profile of the book, he said.
They include Singaporean mountaineer Khoo Swee Chiow, who scaled K2, the world's second-highest mountain, Tan Tock Seng Hospital's head of sports medicine and surgery, Dr Jason Chia, and Procter and Gamble chief executive Bob McDonald.
To date, the publisher McGraw-Hill Education says it has distributed 4,000 copies of the book, still a long way from the ultimate goal of selling 10,000 copies.
But true to the life lessons Mr Rose distils in his writing, he is not daunted by the ambitious target he has set for his first book and is, in fact, already preparing to pen his next one.
Source: The Sunday Times