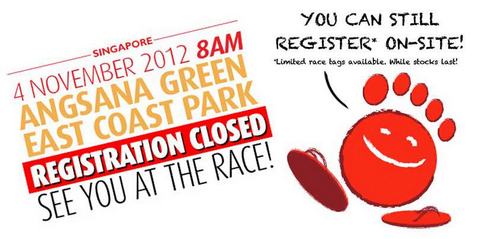 The Project Happy Feet Slipper Race is inspired by the many school children in countries such as Cambodia who walk more than 3km to school either barefooted or in slippers – if there is a school nearby.
By getting participants to walk in a similar distance in slippers, we hope people will put themselves in the shoes (or slippers!) of these underprivileged children and do their part to contribute towards them having a chance at education.
For the younger participants, we hope they walk away with an appreciated for what they have been given, and feel inspired and empowered to do something for their counterparts who are less privileged.
Though the event is not really a race in the competitive sense, we hope to send the message that there is a great urgency for us to do something about education for underprivileged children around the world, and that we should race against time to give our support and make that positive impact now.
You can still register on-site on 4 November before 8am! Whilst stocks last!
About:
Project Happy Feet is a Singapore-based not-for-profit organisation set up to empower the lives of underprivileged youths and children in developing countries by supporting their education and training through fund-raising for education-related initiatives and programmes that positively impact them or their families. Project Happy Feet was conceptualised in 2007. Its first project was to Siem Reap in 2008, leading it to be officially registered in 2009. To date, Project Happy Feet has raised more than SGD 300,000 through its fund raising initiatives such as Chefs for a Cause in 2009, the Project Happy Feet Slipper Race in 2011 and supported more than 4,000 children and youth in Singapore, Vietnam, Cambodia and Nepal through its programmes.