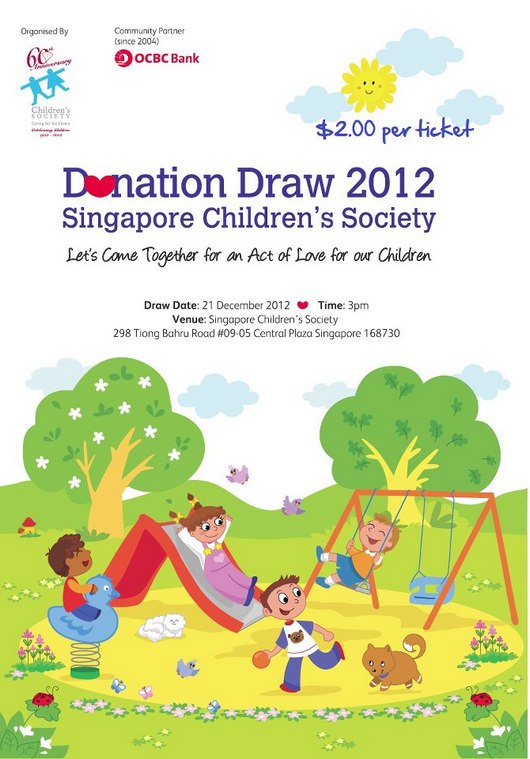 Singapore Children's Society requires your help in our annual Donation Draw, which will be held on 21 December 2011. The proceeds in this Donation Draw are to raise funds to support the services that we offer to our needy children and their families.
You may help us in our annual Donation Draw by:
1) Giving outright donations
2) Purchasing draw tickets at $20 per booklet (each draw ticket costs $2)
By purchasing our donation draw tickets, you will stand a chance to win 20 attractive prizes. Our prizes include attractive Cash Prizes, OSIM uYogga Massage Chair, One-Night Weekend Stay in The Ritz-Carlton, Millenia Singapore Deluxe Room, Dining & Shopping Vouchers and much more! Results of our Donation Draw will be published on 29 December 2011 in The Straits Times, the Singapore Children's Society website and on our Facebook page at http://www.facebook.com/SingaporeChildrensSociety !
Kindly download the response form from: http://www.childrensociety.org.sg/images/stories/events/DD_Response%20Form.pdf
For more information, please contact
Ms Lee Wenting or Ms Huang Aijuan at wtlee@childrensociety.org.sg / ajhuang@childrensociety.org.sg
Tel: 6273 2010 / Fax: 6273 2013