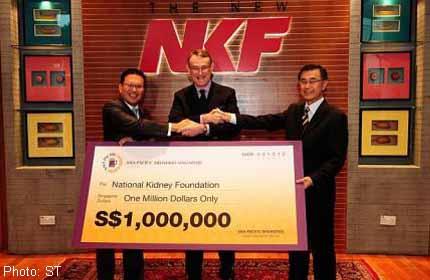 The National Kidney Foundation (NKF) has received a second million-dollar donation, this time from Asia Pacific Breweries (APB) Singapore.
It is the largest corporate donation that the NKF has received, excluding contributions towards the building of its headquarters and dialysis centres.
The $1 million gift comes just two months after Indonesian-Chinese businessman Kasmadi Melati, 68, gave the same amount to the charity.
Heineken chairman and chief executive Jean-Francois van Boxmeer presented a symbolic cheque to Mr Koh Poh Tiong, the NKF's chief executive, yesterday.
The NKF is the largest dialysis provider in Singapore, and supports 90 per cent of needy haemodialysis patients here.
In the previous financial year, it disbursed $27.7 million worth of subsidies for dialysis, medication and auxiliary services.
The charity, which needs $60 million annually, ended its recent financial year with a deficit of $5 million.
"Every day, three people in Singapore lose the use of their kidneys. We cannot tell them, 'Sorry, we have no more place' and turn them away," Mr Koh said.
The donation will bolster the NKF's plan to cater to Singapore's growing number of kidney patients, said Mr Koh, and will help provide about 7,800 haemodialysis sessions to 50 kidney patients a year.
The NKF expects about 500 new patients to join its dialysis programme by 2016, and plans to build four more new dialysis centres in the next four years.
APB Singapore is a fully owned subsidiary of APB Limited, which Heineken completed its acquisition of about two weeks ago.
Source: The Straits Times