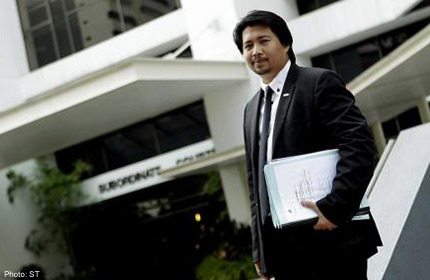 Eighteen cases taking over 1,700 hours. That is the amount of pro bono work criminal lawyer Josephus Tan has carried out this year.
A self-confessed juvenile delinquent, the 33-year-old criminal lawyer of Patrick Tan LLC said it is his way of repaying society.
"My work is a mission to ensure that everybody is given a chance to right the wrongs in their lives," said Mr Tan.
"Many people have asked me why I am so driven. It is because I was first helped, and now it is time to return that help."
Called to the Bar in May 2009, he has completed 78 pro bono cases. Mr Tan said criminal practice should be holistic and not purely legal. He has no qualms about giving his clients his mobile number and responding to their calls 24/7.
Earlier this year, he acted for a youth facing multiple rape and sexual assault charges against two teenage girls. It later transpired that his client was mentally impaired and had a history of glue-sniffing.
Mr Tan said: "Even though the prosecution had urged a jail sentence of five to 10 years with caning, my client was sentenced to 18 months (without caning) at the reformative training centre."
Mr Tan, known for his heart of gold, added: "The Criminal Legal Aid Scheme (Clas) can ensure that only the most genuine and deserving are granted aid. No need for lawyers to second-guess their dire personal circumstances."
Young lawyer Nadia Yeo said that through pro bono work, she meets the needy and socially disadvantaged who are desperate for help. She works at least 10 hours a day, yet has found time to take on eight Clas cases this year.
One involved a 17-year-old bipolar disorder sufferer charged with criminal intimidation and voluntarily causing hurt – though the latter charge was dropped.
Miss Yeo, 26, an associate with Rodyk & Davidson LLP, said: "The boy had taken a knife, stood outside his neighbour's flat and waved it at the neighbour. He had also punched the neighbour."
With Miss Yeo's help, the teen was given a mandatory treatment order.
She said: "Their flat was so small and there were about seven people living in it. A few mattresses were stacked up in the living room, and the only electrical appliance I saw was an old refrigerator."
Mr Gopinath Pillai, 42, helps poorer foreigners get a fair trial. He has chaired Clas for five years, and said: "When they get into trouble (with the law), some are not aware of their rights.
"Some may plead guilty, regardless of whether they have committed the crime, so that they can serve their sentence and return home. Many are unaware that free legal aid is also applicable to foreigners."
Mr Pillai, director in litigation and dispute resolution at TanJinHwee LLC, spends close to 400 hours on pro bono work a year.
He supports making pro bono work compulsory, adding: "A bigger pool of lawyers working pro bono will benefit the public at large."
Source: The Straits Times