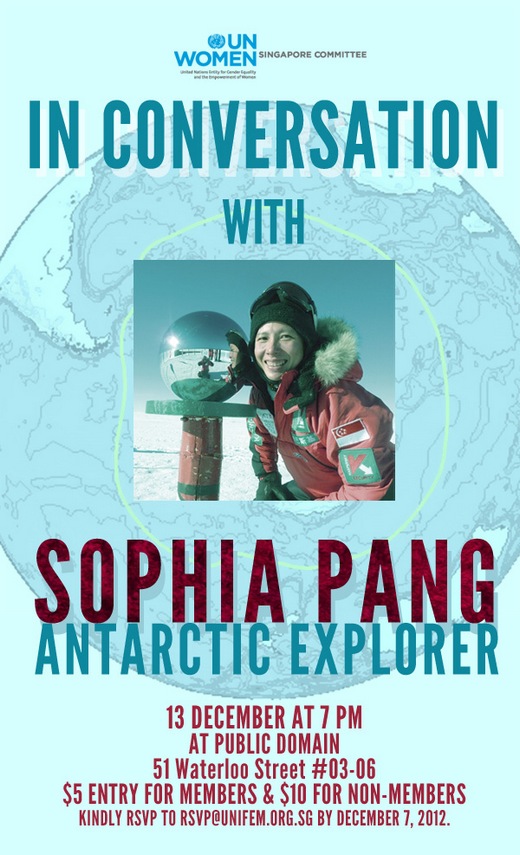 Thursday, 13 December, 2012
7 pm to 9 pm | Public Domain, 51 Waterloo Street. Map here.
*$5 for UN Women Singapore Members. $10.00 will apply for NON-Members. To sign up to become a member, please visit http://unwomen-nc.org.sg/Be_a_ Member.shtml. Multiple year memberships are also available.
As a mother of three and the first Singapore woman to ski to the South Pole, Sophia is not a typical mother.
Besides being a qualified accountant and a certified IT project manager, she is also a qualified aerobics instructor and a certified personal trainer.
On 29-Dec-2009, together with 6 other women as part of the Kaspersky Commonwealth Antarctic Expedition, she reached the geographical South Pole after skiing for 38 days and over the distance of 500 miles.
Being a full-time working career woman and balancing time with her family, Sophia recognized the importance of self-appreciation – the need to put aside personal time for oneself. Through her participation in the Antarctic expedition, Sophia hoped to set an example to the ordinary women to appreciate themselves more and that it was alright to pursue their own dreams.
This was a feat that many were doubtful initially – even her own daughter said "It would be a miracle if you did it!" Having a "hidden" adventurous side, Sophia hoped to inspire her daughter, as well as others, that nothing is impossible if we set our mind to do it. And while reaching South Pole was the final goal, the experience gained from the preparation through the 38-days journey was just as fulfilling and rewarding.
She will soon be rekindling her adventurous side. However, the focus this time will be on youths, encouraging and enabling them to meet challenges in life, building their physical and most important, their mental resilience. In addition, the team will also be raising funds for charity to instill caring and sharing in the next generation.
Please RSVP to rsvp@unifem.org.sg with your Full Name, Membership Number, Contact Details and the number of seats required.