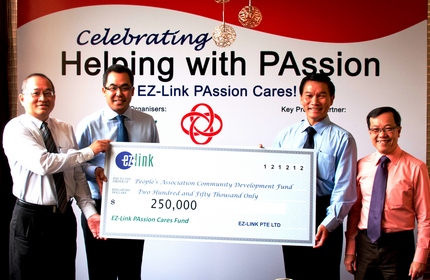 EZ-Link will be donating $250,000 to the EZ-Link PAssion Cares! Fund, a donation-specific fund under the People's Association Community Development Fund to help low income families and individuals. Here is the official statement in full:
SINGAPORE – In conjunction with its 10th year of operations , EZ-Link will be introducing two Corporate Social Responsibility (CSR) Campaigns to give back to society. EZ-Link will be working with the People's Association (PA) to provide assistance to 5,000 low income families and individuals.
For the first campaign, EZ-Link will be donating $250,000 to the EZ-Link PAssion Cares! Fund, a donation-specific fund under the People's Association Community Development Fund. The monies would be distributed in the form of $50 transport credit for 5,000 needy families identified by PA's grassroots organizations. The transport credits would help to lighten their daily transportation expenses and is aimed at alleviating the impact from rising costs of living.
Mr Nicholas Lee, CEO of EZ-Link Pte Ltd said, "EZ-Link has had ten good years all because of the continued support from our cardholders. Hence, we wanted to do something meaningful and take the opportunity to remember those most in need of help, the less-privileged families. We believe that by supporting their transportation expenses, though modest, will help them in a very practical way.
We are very happy to work closely with our partner PA on this project. With their years of experience, coupled with EZ-Link CEPAS system and the support of Transit Link, I am very proud to share that the distribution of funds will be secured, seamless and transferred directly to the recipient's ez-link card." For the second campaign, EZ-Link hopes to involve the public to participate as a show of support for EZ-Link CSR Campaigns by tapping their ez-link cards at over 450 upgraded CEPAS carparks for payment upon exiting the carpark. For those with the 2GIU in their cars, all they have to do is to insert their ez-link cards in their new IU for ERP and carpark charges.
With every ez-link transaction made on ERP and carparks from 1st February to 31st March 2013, EZ-Link will contribute $1 to the EZ-Link PAssion Cares! Fund, with a target of achieving a total contribution of $100,000. The contribution will go towards supporting meaningful community initiatives that will help the less privileged in our community.
Mr Yam Ah Mee, Chief Executive Director, PA shared, "EZ-Link's contribution exemplifies the Many Helping Hands approach, where the more able in the community, including companies and individuals, come together to help less privileged Singaporeans holistically through meaningful community programmes. As a Project We Care network company, EZ-Link's efforts will go a long way in encouraging more like-minded organisations to come forward and do more for our community."
Apart from the above donations, EZ-Link has also initiated or participated in several other CSR projects this year, including the President's Challenge 2012 'Tap and Donate' campaign where ez-link cardholders could conveniently tap their cards at top-up and acceptance points around the island to make donations towards the President's Challenge.
The collaboration between EZ-Link and the PA started with the launch of the PAssion ez-link card in November 2009. It is the first membership card incorporated with the ez-link CEPAS purse in Singapore. The PAssion ez-link Card is both an ez-link card and a card that gives its members special rates for all courses, activities and facilities at Community Centres, along with privileges/discounts at over 1,000 PAssion Merchant outlets. There are currently 1.2 million PAssion Card Members in Singapore."