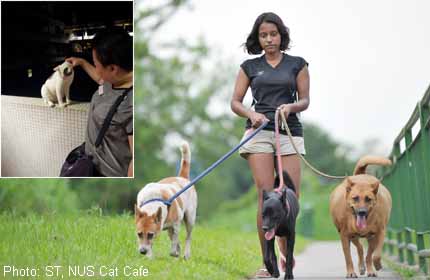 Lien AID
Founded in 2006 through a partnership between the Lien Foundation and Nanyang Technological University, Lien AID aims to make water safe and sanitation accessible and affordable for poor communities in Asia.
www.lienaid.org
The Nature Society (Singapore)
The society is dedicated to the appreciation, conservation, study and enjoyment of the natural heritage in Singapore, Malaysia and the surrounding region.
Some projects undertaken by the society include the Horseshoe Crab Rescue and Research Programme and the Rail Corridor.
www.nss.org.sg
House Rabbit Society Singapore
The society seeks to reduce the number of unwanted rabbits in Singapore by rescuing and finding new homes for those that have been abandoned.
It also educates the public on how to properly care for the animal, although it does not operate a shelter and relies on volunteer foster homes that take in the rescued rabbits while they wait to be adopted.
www.hrss.net
Project JK
Set up in 2004, Project JK, which stands for "Just Kindness" is a team focused on rescuing, rehabilitating and finding new homes for stray animals.
www.projectjk.blogspot.sg
NUS Cat Cafe
The volunteer student organisation is dedicated to caring for stray cats within the National University of Singapore campus.
It also offers a humane and effective method of controlling the cat population within the campus via its Trap-Neuter-Return-Manage programme.
The programme involves identifying cat clusters on campus, trapping the cats for neutering, and then returning them to their territories.
Once there, their well-being will be monitored.
blog.nus.edu.sg/nuscatcafe/cat-care
World Wide Fund for Nature (WWF)
The group wants to stop the degradation of the natural environment, and campaigns for both the protection of animal species and reduction of the human footprint on the environment.
WWF Singapore, a direct arm of the international organisation, seeks to raise awareness of conservation by educating the young and organising campaigns such as the Sustainable Seafood campaign.
Another key area it focuses on is illegal wildlife trade.
www.wwf.sg
Source: The Straits Times