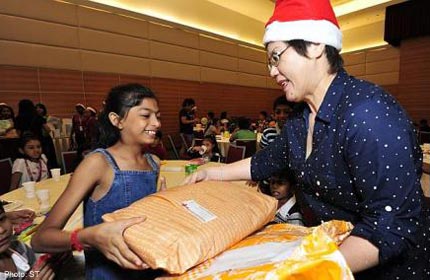 Media company Singapore Press Holdings (SPH) has donated more than $4 million and helped raise over $6 million for the community this year.
In addition, the SPH Foundation gave more than $1 million to a variety of causes.
Among those that benefited were charities and groups involved in the arts, education, sports, nature and conservation.
Besides cash donations, SPH gave back to the community in other ways.
On Wednesday, the corporate communications division organised a Christmas party for children, caregivers and volunteers from Trans Family Service Centre (Bedok) at its Toa Payoh premises under the Boys' Brigade Share-a-Gift project. Staff from other divisions were present to help out.
A total of 48 children from low-income families were treated to lunch and games and given presents by SPH staff members including Madam Betty Tan, 57, who granted 20 children's wishes for gifts costing about $60 each.
Attending the party with her husband and four children aged four to 10 was cashier Usharani Subramaniam, 27. She said: "My husband and I are always working. We had no chance to take the children anywhere this holiday."
Her husband is a security guard.
SPH management and staff fulfilled more than 300 wishes and donated cash and food items to the Boys' Brigade, contributing more than $20,000 to the project.
Ms Ginney Lim, general counsel and executive vice-president of corporate communications, said: "It's quite heartening to see the children enjoying the party and being happy. This has been an organisation-wide effort. It's the season for giving and SPH has proven to be generous."
Other SPH charitable events this year include a charity carnival, a flea market in aid of The Salvation Army, and a biannual blood donation drive with the Singapore Red Cross.
SPH's products and subsidiaries have helped to raise funds for different causes.
This year's ChildAid concert, organised by The Straits Times and The Business Times, has raised more than $2 million for The Straits Times School Pocket Money Fund and The Business Times Budding Artists Fund.
SPH's wholly-owned subsidiary, Sphere Exhibits, also partnered with Community Chest and the Les Amis Group and raised $280,000 for charity at the inaugural Asian Masters Charity Dinner.
For its extensive corporate social responsibility efforts, SPH and the SPH Foundation were honoured with the Corporate Platinum Award at the Community Chest Awards in October.
Source: The Straits Times