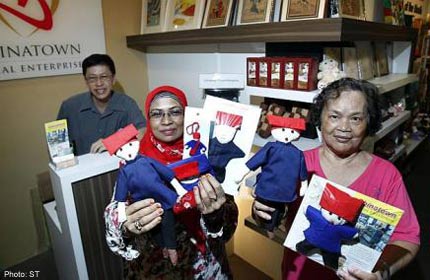 For days on end, Chinatown resident Toh Kuen Tuck used to coop herself up in her humid one-room rental flat.
The 77-year-old was jobless and could not afford to go out to shop or drink coffee with her friends.
"I wanted to work so that I could buy food and pay the rent but no one wanted to hire me, even as a cleaner," she lamented.
However, Madam Toh has now been trained to make handicrafts as part of a social enterprise that aims to keep the elderly active.
The project is initiated by grassroots leaders from Kreta Ayer-Kim Seng constituency, who noticed that many needy and elderly residents were whiling away their time in rental flats during their weekly home visits and Meet-the-People sessions.
To address this problem, the grassroots leaders decided to train them to make handicrafts that would be sold in a social enterprise. In 2010, there were some 4,500 rental housing units in the ward, the highest in the country.
Said Mr Eddie Tan, 49, business development manager of Chinatown Social Enterprise: "Demand for handmade handicrafts is there as many shops were simply selling mass-produced made-in-China items to tourists. Today, we have many locals and tourists buying our items."
When the project was set up two years ago, it was the first of its kind in Singapore.
To date, it has hired about 30 residents from the area. Some of them are elderly people in their 60s and 70s who live alone. Others are housewives whose household monthly income has fallen below $1,000. They are mostly identified through referrals from grassroots leaders or MPs.
Three times a week, the Chinatown residents head to a handicraft workshop in Sago Lane to sew bags and dolls or make trinkets such as keychains, tissue-box holders and pouches. They are paid $4 to $5 an hour and most of them take home about $200 to $300 a month.
The aim of the initiative is to offer needy and elderly residents, who find it difficult to find or hold down jobs, a way to live productive and driven lives while helping them qualify for state aid such as the Workfare Income Supplement.
This payout is given to those who earn less than $1,700 a month. To be eligible, they must have worked at least six months in a year.
The items, made by the residents in the workshop, are then sold in a retail store at The Majestic, which is a Turf Club betting centre. A space on the ground floor has been rented to the ward's Citizens Consultative Committee for a token amount.
One quarter of the space is used for the enterprise's retail area, which also stocks products from voluntary welfare organisations like the Singapore Association for the Deaf. The rest of the space is sub-let by the committee to fund the enterprise and other community initiatives.
In the months ahead, Mr Tan hopes to expand the enterprise by hiring more residents and offering a wider range of products.
Madam Norlela Mohd Rohani, 47, who has been working with the social enterprise for 1 1/2 years, said the extra money she gets from the part-time work has helped defray mounting household expenses. It has been a struggle for the family of five to live on her husband's monthly pay of $700 as an odd-job worker.
Residents say the initiative gives them not only a stream of income but also the "dignity" of an occupation.
"I feel proud that I can do something useful," said Madam Norlela. "After I make the items, I go home and show them to my children."
To contact the group, go to http://www.chinatownsocialenterprise.com/index.aspx
Source: The Straits Times