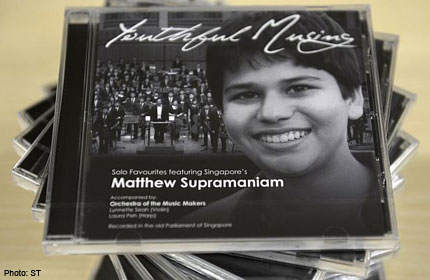 Teenage singing sensation Matthew Supramaniam's first album has raised $170,000 for charity in just two weeks.
The 14-year-old soprano released his first professional project Youthful Musing two weeks ago which contains Christmas favourites like O Holy Night and Silent Night.
The Singaporean, who is studying for his O levels at England's prestigious Eton College, took on the project during a brainstorming and production process that began in August.
The golden-voiced teen said he did it as it was a "higher purpose reaching beyond the music".
The amount raised will go to the Community Chest, the Singapore Indian Development Association (Sinda) and restoration of the Victoria Concert Hall pipe organ.
Corporate donations and sales proceeds from the album's initial run of 3,000 copies made up much of the money.
Matthew has sung for charity before. He performed in the ChildAid concert last December which in all raised $1.88 million for children's charities.
His professional reputation has been growing after performances like that in the opera The Flight Of The Jade Bird at this year's Singapore Arts Festival, which received positive reviews.
The album is available at the Singapore Symphony Orchestra Esplanade push-cart on concert evenings for $25, and also at the National Council of Social Service, The Arts House and Sinda.
Matthew's father Paul Supramaniam, 55, said he was pleased with his son's willingness to contribute to charity. "I'm pleased that he feels he has a duty to benefit others with a talent he is fortunate to be blessed with."
Source: The Straits Times