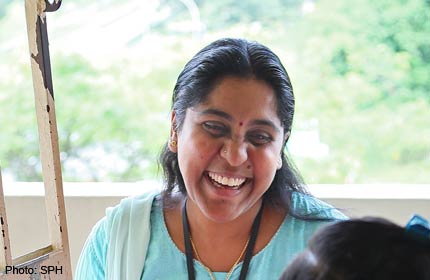 Case worker Meera Ramachandran is so committed to her job that she infects her family and friends with the spirit of giving.
And she has a pet project, a food rationing programme she started on her own in June this year.
So once a month, Ms Meera, 39,who is a manager of social services at the North East Community Development Council (CDC), delivers dried groceries and toiletries to her clients' homes.
And she has got three of her mother's friends involved as donors.
They help fund supermarket vouchers of a minimum of $80 per family for five families a month.
They are part of the 45 families she sees on average monthly as part of her job.
She also asks her friends and relatives to donate items like old baby clothes, toys and books to the less privileged families she cares for.
Even her 13-year-old son, whom she brought up on her own for 12 years after her divorce, is not spared.
She go them to donate his old school books and toys.
She said: "I get everybody involved – wherever I go, I just ask (for donations)."
Cleaner Tay Keng Leong, 59, and his family are on MsMeera's ration project.
The household of five survive on his meagre income of $800 a month and live in a two-room rental flat.
Mr Tay has asthma and two of his three children have the same condition.
The children's ages range from nine to 13 . His wife, Madam Ong Buay Huay, 44, has a chronic back ailment and cannot work.
The couple struggle to make ends meet so Mr Tay occasionally works as a karung guni man.
Life is better But life for the Tays looked better a year ago, after they sought financial assistance from North East CDC.
They now have help paying some of their household billsand extra cash assistance.
Ms Meera also went the extra mile to provide extra rations.
For more than a year, Ms Meera, who oversees the Tays' case, makes sure they have enough to get by.
She meets the family on an average of once every two months, either at the void deck of their flat to give them food, or at the Hougang Community Club when they need help to fill up forms or to review their financial assistance.
Two weeks ago, she went to the Tays' flat for ahome visit.
The New Paper went with her.
She was ready with a yellow notebook and pen in hand, to take down notes on how to improve the family's situation.
Madam Ong said: "If we have any problems, we go to the community centre to look for her."
MrTay added: "She's a very good person. If there are forms we don't know how to fill up, or problems with the landlord, she helps us."
For two other families, helping meant getting the women jobs because their husbands were in prison for drug abuse.
As the manager of social services since January last year, Ms Meera has 97 blocks of flats in the Hougang Single Member Constituency under her care.
She linksupthese familieswhoneed financial assistance to agencies who can help, like The Straits Times School Pocket Money Fund, or advises them to get help from schools for financial assistance.
Outside her working hours, she has been volunteering with the Singapore Anti-Narcotics Association for the past 16 years to help more people. Mayor of North East District Teo Ser Luck has also recognised Ms Meera's efforts.
He said: "A dedicated staff who is clearly passionate about going the extra mile to care for her clients, Meera epitomises North East CDC's mission of providing care and support to the needy in the community."
"We are proud to have a team of dedicated social assistance officers like Meera who think nothing of going beyond the call of duty for the benefit of those under their care."
With a smile, Ms Meera said: "I love my job. I get heaps of joy and satisfaction in the work that I do… I treat every individual case as a baby and I handle it with s omuch care."
Source: The New Paper