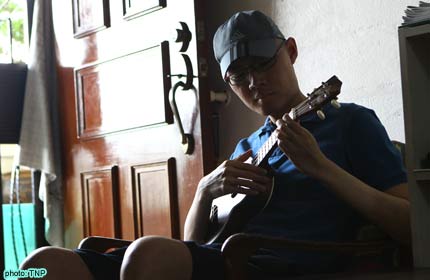 Leukaemia patient Sai Tu Jian has ticked something off his bucket list and he is very proud of that.
The 28-year-old raised $12,000 for the Children's Cancer Foundation through the Hair For Hope event this year.
The annual event, which encourages participants to shave their heads, aims to create awareness about cancer in children and raise funds for needy patients.
Mr Sai says he was disappointed that he didn't get to attend the event in July as he was hospitalised.
But he was pleasantly surprised by the amount raised, which exceeded his $10,000 target.
With a chuckle, he says: "I didn't have to shave because the chemotherapy made my hair fall off."
He adds: "The online profile I created, where I shared my personal story, managed to raise the funds and I am glad to have made a difference."
He found out about his illness during a routine check-up in June last year, which showed an unusually low haemoglobin count.
At that time, his father was fighting a battle against lung cancer. Six months after Mr Sai was diagnosed, his father died.
Since then, he has gone through not one, but two bone marrow transplants and several rounds of chemotherapy.
He is now in remission, but doctors say that there is a good chance the cancer could return. Living this way, with its ups and downs, is not new to Mr Sai.
Mr Sai had been working for only eight months after graduating from Nanyang Technological University (NTU) when he fell ill – he was an assistant course superintendent in charge of maintaining the turf at Tanah Merah Country Club.
When diagnosed, doctors said the chance of recovery was high, he says.
"Doctors told me that there's a good chance that four to five rounds of chemo should be able to put a majority of patients into remission," says the youngest of three children.
But during the fourth round of chemotherapy treatment, he contracted a liver infection which halted his progress.
This led to a relapse and the need for a bone marrow transplant. He chooses to see the obstacle as a blessing in disguise.
"The infection meant I was able to stay at home with my dad during his last days instead of going through chemo at the hospital. That was very meaningful for me," he says.
In March this year, he got a bone marrow transplant from his sister, who is six years older.
But within three months, he suffered another relapse. Last month, he received another bone marrow transplant, this time from his older brother.
Now, he is hoping the cancer will be kept at bay permanently.
Mr Sai counts his blessings to keep his spirits up.
"Both my siblings were perfect matches for me. Some people wait for a match for years… and some wait until their life ends," he says.
His medical bills have climbed to a whopping $200,000, he estimates, but insurance covers it.
"Some other patients really struggle financially, but I don't have to worry about this aspect, which is something I'm grateful for," he says.
Still, he struggles with the occasional bout of sadness and despair.
"I never asked myself the question 'why me?', until after the second relapse," he says. The illness has changed his perspective on life.
"I used to be a planner – I wanted to get a good job, earn money, climb the ladder, settle down and have a family. The typical things Singaporeans look forward to," says Mr Sai.
"These days I try to live in the moment, appreciate one day for what it brings. Like the tea we're now drinking… just savour the flavour," he says to this reporter, who met him on Thursday at a cafe near Singapore General Hospital after he attended a medical check-up.
His girlfriend of three years has been a strong motivation to keep fighting, he says. He and Miss Liang Qipei, 25, an events executive, met when they were students at NTU.
She says the thought of leaving him never crossed her mind because despite his sickness, "he is still the same guy".
"TJ's a fighter and I want to stay by his side to fight this battle with him," she says.
Mr Sai's desire to reach out to those around him led him to put another item on his "refined" bucket list.
The old one, which he created shortly after he was diagnosed, included items like learning conversational Malay, climbing the Great Wall of China, and learning first aid. These days, getting his friends to become bone marrow donors tops his list.
He explains: "If you die, the travel experiences are not something you can take beyond the grave." He hopes to convince more friends to sign up as donors so that others like him can have another shot at life.
"Within siblings, there is a one in four chance of finding a match. Outside of the family, there is a one in 20,000 chance of finding a match.
"If more people don't come forward to sign up to be a donor, very few will find matches," he says.
Source: The New Paper