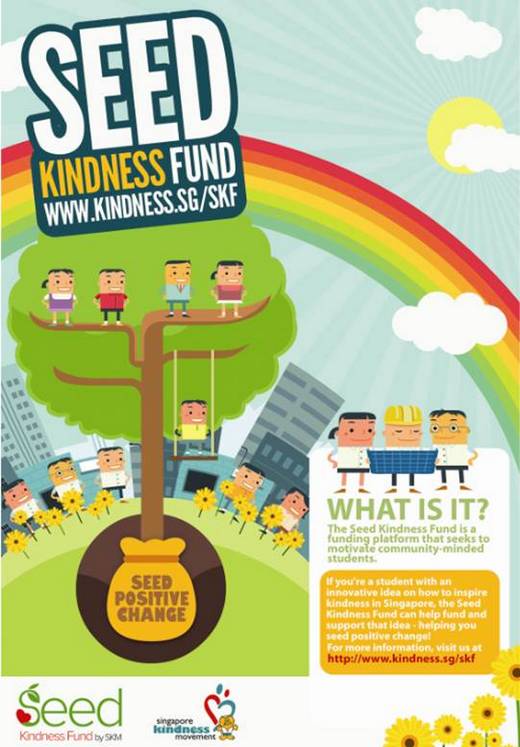 We need volunteers to help us with promoting Seed Kindness Fund (SKF) at our booths in selected campuses!
What is SKF?
In 2013, we hope to see youths stepping up to promote graciousness in Singapore. Hence, we are encouraging students from the secondary schools and tertiary schools to take part in our initiative called 'Seed Kindness Fund'. For Seed Kindness Fund, we hope that youths would recognise and celebrate the kindness of others and inspire people to practice everyday kindness. Students can sign up in group sizes ranging from 1-12 people and submit their project proposals to SKM. Upon approval, we will fund the students up to $1000.
For more details, visit: www.kindness.sg/skf
Details:
CHIJ Katong Sec Sch- 29th and 30th Jan (Tues and Wed): 8.30am – 12.30pm on both days
CHIJ STC – 4th Feb (Mon): 8.30am – 12.30pm
AMK Sec Sch – 6th Feb (Wed) : 8.30am – 12.30pm
YCK Sec Sch – 13th Feb (Wed): 8.30am – 12.30pm
Orchid Park Sec Sch – 15th Feb (Fri): 8.30am – 12.30pm
TJC – 6th March (Wed): 8.30am – 12.30pm
Volunteers Needed: 1-2 volunteers per school visit.
*CIP Hours will be awarded to students.
If you're interested, please email with your name, email address and contact number to hello@sgvolunteer.com