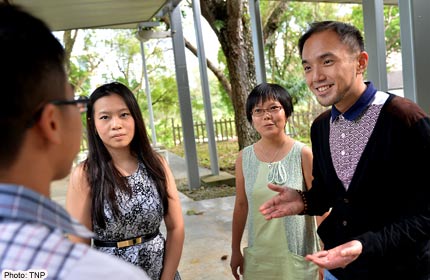 If you are a litterbug, do not be surprised if a stranger approaches you to tell you to pick up your litter.
From next month, 28 people will go about their daily lives while keeping an eye out for litterbugs. When they see someone littering, they will approach and ask the person to pick the rubbish up.
If the person ignores them, they can take down his name, IC number and address and hand this information to the National Environment Agency (NEA) to investigate.
These volunteers from various non-government organisations (NGOs) such as the Singapore Environment Council (SEC), Public Hygiene Council and Cat Welfare Society have been trained by the NEA.
Come April, they will receive their authority cards as the pioneer batch of NEA-empowered community volunteers to help in the agency's anti-littering efforts.
They are authorised to act on behalf of NEA officers to educate and encourage litterbugs to pick up their litter.
The objective of this scheme is to foster greater community ownership by encouraging the public to actively take part in keeping Singapore clean.
This is something which volunteer Damon Yong, 38, agrees with.
Civic-minded
"We are just community volunteers. We want to make the approach more civic-minded rather than authoritarian," said Mr Yong, the director of business development at SEC.
"So it's like I'm talking to you as a member of the community and not as an officer."
A NEA spokesman explained that volunteers undergo strict screening to assess their suitability, including an interview.
The criteria for making the first cut includes having no prior littering offences.
All volunteers have to complete a two-day training course, which includes familiarisation with legislation regarding littering offences.
It also includes accompanying NEA officers on their enforcement rounds. Training for this first batch was done earlier this year. A second batch of 30 volunteers started training earlier this month.
Unlike NEA officers, these volunteers do not work shifts. They go about their daily activities, and their work begins if they spot a litterbug along the way.
Ms Grace Ang, 31, an administration executive at SEC, said: "We can do our part to get the community to help us keep the environment clean.
"Littering is also equivalent to pollution."
Ms Ngeow Yin Teen, 24, also an executive at SEC, echoes her sentiment. She signed up because she wanted to contribute to the environment.
"NEA officers can't be all around Singapore. We are here to help out as well," she said.
Mr Yong said that the biggest difficulty is perhaps in identifying would-be offenders.
"They can claim that they are just putting something here for a while, and coming back again later to throw it away. I cannot say for sure that they are breaking the law."
He said that is a challenging aspect, but also something they may only learn with experience. "We don't want to penalise people wrongly," he said.
When talking to litterbugs, volunteers can direct them to an alternative to littering, such as a bin nearby, or advise them to hold on to their trash.
When TNP polled 10 people, all of them were unaware of this scheme. But a few expressed concern over the suitability of these volunteers.
Mr Zuhaili Marican, 21, an administrative assistant, said: "The issue of abuse of power did come to mind, but if they have licences legitimised by NEA, it should be okay.
"Its effectiveness might be undermined by the low number of volunteers."
Despite the potential difficulties they may face, these three volunteers are all ready to start work.
Mr Yong said: "We are all rallying and eager to go out. We want to contribute."
Source: The New Paper