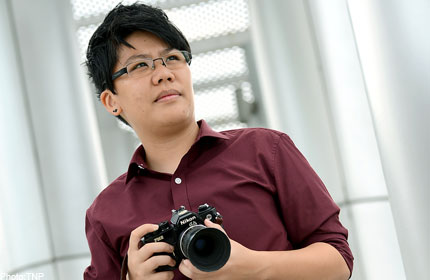 The cancer was eating away at her and she was in great pain.
Yet, Miss Eileen Chong's unmarried aunt continued to care for her family.
Said Miss Chong, 28: "She was all skin and bones. She was in a lot of pain. Yet she still cooked for us and constantly checked on us to see if we needed anything."
It was her aunt's selflessness in spite of being the one in need that inspired Miss Chong to love others in the community.
Her aunt, who died a year ago inspired her to make Singapore: Unsung Heroes, a five-part documentary series of individuals doing acts of kindness.
"I find that Singapore can be a cold place at times. We see people in need, and don't do anything," she said.
"All these small stories are to inspire Singaporeans to take a look, pause, and see how they can help."
Miss Chong, who has a diploma from Ngee Ann Polytechnic's Film, Sound and Video course plans to upload the first episode by May 1 but the Facebook page which was set up on March 18, has gained more than 1,000 "likes".
Miss Chong, who runs a photo and video company Under One Tree Media with a partner, hopes the page will facilitate even more giving among Singaporeans.
Two years ago, she started photo and video company Under One Tree Media, consisting of Miss Chong, her business partner, and two freelancers,, w.
Documentary-making was something Miss Chong had always wanted to pursue, but was bounded by time considerations.
She said: "I got tired of all these excuses, and realised I had to go for it.
"Videos are powerful because they can cause a ripple effect based on what you show your audience
The unsung heroes featured in her documentary are contacts from her friends or people found through the Facebook page.
"The only criteria is that they do not belong to any organisation and they have been doing acts of kindness for many years," she said.
Each episode is 20 minutes long and the video will be posted on the Facebook page.
"It'll include an interview with the unsung hero where I'll dig deep into why they're doing this. I'll also be trailing them so people can see their heart of service in action," she said.
There have been two videos on the Facebook page so far.
The first is a snippet of episode one of her documentary.
The "unsung hero" featured is Madam Fion Phua, 43, a woman who knocks on doors and offers help to families in need.
Said the membership broker: "As long as the intention behind the video is sound, I think it's a good idea.
"I hope it will help encourage more people who have not tried volunteering or are too reserved to approach strangers."
She said: "My favourite moment so far is when messages of people pledging to donate started appearing on Facebook Though this project has just started out, Miss Chong already has an end goal in mind.
" Whatever help that people need, this page will provide the inspiration for Singaporeans to step forward and contribute."
Source: The New Paper