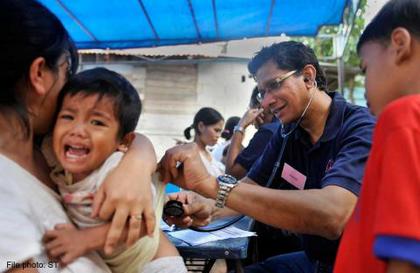 Once a month, a white bus weaves its way through the streets, pulling up at a different foreign worker dormitory each time.
The mobile medical service is a welcome sight for the workers, who struggle to find time and spare cash for medical check-ups.
It is the brainchild of Associate Professor Joseph Thambiah, doctor by profession and Samaritan at heart.
The mobile clinic also serves the elderly living in one-room rental flats.
The team of volunteers identify locations where senior citizens may need medical help by speaking to grassroots organisations. Volunteers will go up to flats with wheelchairs to help less mobile old folk down to the bus.
If patients are bedridden, the volunteers will make house calls.
Prof Thambiah, the head of the musculoskeletal trauma division at the National University Hospital (NUH), started taking an active interest in volunteering after he went on a medical relief mission in 2006 to areas in Java, Indonesia ravaged by the Yogyakarta earthquake.
Since then, the 54-year-old has been leading teams of volunteers to Batam on monthly medical relief missions, treating more than 1,000 villagers each time.
In 2009, he came up with the idea of a mobile clinic that could take to the streets of Singapore to serve needy segments of the population.
He said: "The mobile clinic began with a simple thought in my head – that while we were providing for the poor in other countries, we had not looked at Singapore itself, where there were vulnerable communities we could provide this service to."
He raised the idea with his church, St Andrew's Cathedral, and a church well-wisher came up with the funds for a 23-seater bus. It was then stripped of its seats and outfitted as a mobile clinic, complete with a small surgery area and dispensary.
About $5,000 to $7,000 is needed to run the clinic each month, and the funds are donated by supporters.
A team of 60 medical and non-medical volunteers help out at each trip.
When they visit the elderly in rental HDB estates, they usually see 250 to 300 patients. They take more time with each one because they usually have multiple medical problems, said Prof Thambiah. Some of them are well but lonely and need someone to talk to.
During their monthly visits to the foreign worker dormitories, the team usually sees some 400 workers each time.
Dr Christelle Tan, a third-year resident at NUH's department of paediatrics, has joined Prof Thambiah in Batam and on the mobile clinic in Singapore.
The 27-year-old said many of the foreign workers they see have musculoskeletal and joint problems due to the labour-intensive nature of their work.
"These are problems related to their work, but most times, they can't take leave so it's difficult for them to rest and recuperate," she said.
Prof Thambiah said he hopes to encourage more doctors to volunteer their expertise.
"I've always felt that doctors have been blessed with skills that are of immediate value, and these blessings are meant to be shared."
Source: The Straits Times