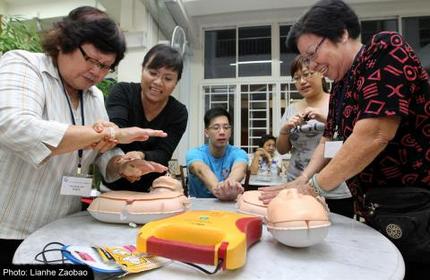 Non-profit organisation First Aid Corps (FAC) is aiming to sign on volunteers who can respond to emergency cardiac arrest cases in residential neighbourhoods.
In partnership with hospitals, companies, schools and other organisations, FAC plans to group the volunteers based on where they live within a 500m radius, so they can be alerted to cases in the vicinity via their smartphones.
So far, Tan Tock Seng Hospital and Hwa Chong Institution have come on board, and discussions with other government agencies are under way.
Dr Dana Elliott, founder of FAC, said the organisation is targeting neighbourhoods because 60 per cent of cardiac arrest cases happen at home.
The Singapore Civil Defence Force told The Sunday Times that its average response time to medical emergencies such as cardiac arrest cases is 11 minutes.
"After 10 minutes, the chances of survival for heart attack victims are practically zero," said Associate Professor Fatimah Lateef, consultant at the emergency medicine department at Singapore General Hospital.
Every minute's delay lowers the patient's chance of survival by 10 per cent, medical experts say.
That is why FAC is forming a Coalition of First Responders for teams to be deployed during the critical 10-minute window period.
Every year, 1,400 people suffer from out-of-hospital cardiac arrest in Singapore. Only 2.7 per cent survive, compared with nearly 20 per cent in the United States, Europe and Japan.
FAC is roping in organisations to get the critical mass across the island, particularly companies as they are required to have trained staff on hand.
Under the Workplace Safety and Health Regulations, it is compulsory for companies to have at least one employee trained in first aid for every 100 persons employed.
Many schools have first-aid personnel or students who are trained in cardiopulmonary resuscitation (CPR).
Individuals who are interested can also sign up with FAC and receive training later.
Once the volunteers are recruited, FAC plans to work with the Singapore Civil Defence Force (SCDF) for the latter to share instant alerts of any cardiac arrest cases with their volunteers.
"The volunteers are not meant to replace the emergency service but to augment them because most likely, one's neighbours or friends are around when such incidents happen," said Dr Elliott.
In Singapore, only 20 per cent of victims receive CPR from passers-by, compared with as high as 70 per cent in many US cities. Dr Elliott said volunteers from hospitals who are medical professionals can serve as mentors for the teams.
He cited an incident last month when a man whose heart had stopped was saved by SCDF chief medical officer Ng Yih Yng, who was passing by. Several people at the scene who have CPR skills attended to the victim. But they stopped administering CPR after a while because they thought the victim's pulse had come back but it was not the case. Dr Ng told the group to continue giving the man CPR.
The Singapore Red Cross said it is encouraged by such a community effort. It noted that while it has trained some 38,000 people to be certified in first aid over the past five years, less than 10 per cent of them go for refresher courses to renew their certification.
A 45-year-old housewife, who wants to be known only as Mrs Loh, said having trained volunteers around will make it less stressful when emergencies crop up. Her husband had a heart attack last year and received CPR from paramedics at home.
"I felt so helpless when the paramedics were delayed and came only 25 minutes after I called," said Mrs Loh, who was told by doctors that her husband was brain-dead after he reached the hospital 45 minutes later. He is in a coma now.
Source: The Straits Times