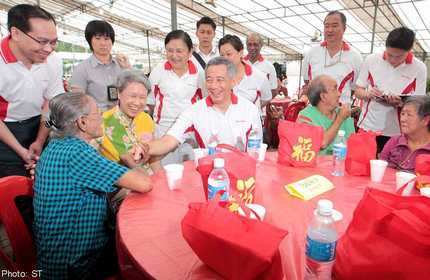 Over 200 voluntary welfare organisations (VWOs) have resoundingly responded to the call made by Prime Minister Lee Hsien Loong in January this year to come together through the Care & Share Movement and nurture the community spirit of helping those with less.
Community Chest, who is leading the movement, together with the VWOs will organise some 870 fund-raising and volunteerism projects this year to optimise the $250 million government matching grant set aside for the sector.
"We are very pleased by the strong support given by the VWOs towards the Care & Share Movement, which is gaining momentum as a sector-wide effort with the participation of 209 VWOs supporting a wide range of social service causes.
We also urge corporations, foundations and individuals to come forward to contribute to the movement and help VWOs to raise capabilities and provide social service programmes to better serve needy and less fortunate Singaporeans," said Mr Phillip Tan, Chairman of Community Chest and the Care & Share committee.
Fund-raising and volunteerism initiatives
Three of the most popular types of fund-raisers that will be organised by VWOs in the movement are related to sports, food and entertainment. The public can look forward to walkathons, charity golfs, charity carnivals, gala dinners and luncheons, fairs, performances, movies and concerts this year to show their support for the sector.
Yong-En Care Centre is one of the VWOs that will be organising several outdoor activities to reach out to different segments of the community to raise funds for needy individuals and families.
Some fund-raising activities in the pipeline include a charity dinner, a charity car wash and a charity golf tournament. The charity dinner, for example, will rope in volunteers in roles such as guest performances by primary and secondary school student volunteers.
"The dollar-for-dollar government matching through the Care & Share Movement is good news for us as it means that every dollar we raise can now have double the impact.
As such, we must work with our volunteers to organise meaningful fund-raising activities to try to raise as much as possible this year. I hope that the public will support us and donate more so that more needy families and individuals can be helped through the movement," said Mr William Chua, Executive Director of Yong-En Care Centre.
Another key element of the movement is to encourage more individuals to give their time and expertise towards helping the less fortunate. The sector will be looking for 160,000 volunteers to be engaged through various activities organised by the VWOs and Community Chest.
One of the VWOs that actively works with volunteers to run activities for its beneficiaries is the Muscular Dystrophy Association (Singapore).
One such activity is an overnight camp for children and youth with muscular dystrophy in June this year run by medical students from the National University of Singapore Rotaract Club.
Community Chest fund-raises for an inclusive site for persons with disabilities
A new project which Community Chest will be raising funds for under the movement is an inclusive site at 141 Redhill Road set up by SG Enable that provides services to meet emerging needs of persons with disabilities.
This site is being developed as a community space that encourages greater integration and inclusion of persons with disabilities and the larger community.
Working together with VWOs, community and corporate partners, coordinated support and services like job support and job placement services, social and recreational activities for all age groups will be made available.
It aims to be an iconic space to explore different forms of training and employment opportunities for persons with disabilities and serve as a showcase of how universal design, accessibility and technologies can enable persons with disabilities to lead fulfilling lives.
"I am happy that Community Chest will be raising funds to support the inclusive site at 141 Redhill Road through the Care & Share Movement. Through the site, SG Enable aims to enable persons with disabilities to fulfil their aspirations and pursue independent and dignified lives.
Following Community Chest's pledge of support for the site, I hope that the community, corporate partners and the general public will give their strong support towards this new space that exemplifies our collective efforts to build an inclusive society for all," said Ms Ku Geok Boon, Chief Executive Officer of SG Enable.
Photo: The Straits Times