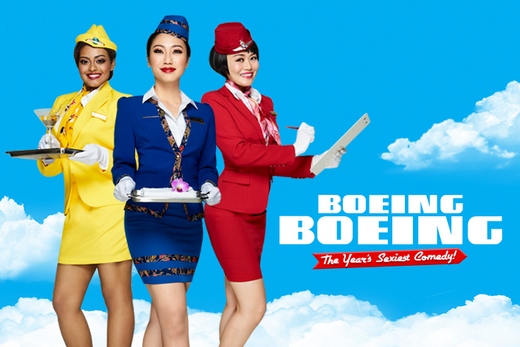 Get ready to be on board with W!LD RICE this June with its classic comedy Boeing Boeing!
It's a swinging bachelor's dream come true: three beautiful air stewardesses, each taking her turn as his girlfriend… and each happily unaware of the others' existence. Sounds impossible? Not if you're Bernard, its modern-day Casanova! With careful, down-to-the-minute scheming, he's managed to keep his hectic love life cruising at the perfect altitude.
But turbulence ensues when his friend Robert comes to stay. Suddenly, Bernard's schedule falls apart, as typhoons, volcanic ash and speedier planes wreak havoc on his precision planning. Can Bernard ride out the storm? How long can he keep it all up? Fasten your seat belts – Boeing Boeing will take you on a mile-high adventure you won't forget!
This brand-new revival will be directed by Pam Oei, one of its original stewardesses now taking over the cockpit as their pilot!
Volunteers are invited to help out with Front-of-House duties from 23 June – 22 July 2017 at the Victoria Theatre.
FOH duties include:
– Welcoming guests at the theatre foyer
– Selling show programme booklets
– Be a Friend of WILD RICE registration
– Assist in FOH administration
Volunteers will receive:
– TWO (02) complimentary tickets to volunteers who completed SIX (06) shows;
OR
– ONE (01) complimentary ticket to volunteers who completed FOUR (04) shows
You may only redeem your tickets after completion of the set of roster.  Community Involvement Programme (CIP) hours would also be given upon request.
Time schedule for reporting of FOH duties:
For evening performances: Tues to Sat, 6:30pm – 10.30pm
For matinee performances: Thurs, Sat & Sun, 1:30pm – 5.30pm
There are no shows on Mondays and Sundays evening.
Dress Code: SMART, RED, YELLOW, BLUE or BLACK.  Please refrain from slippers, shorts or school uniform.
If you are interested, please register here. You will receive an email confirmation shortly after your registration is submitted.