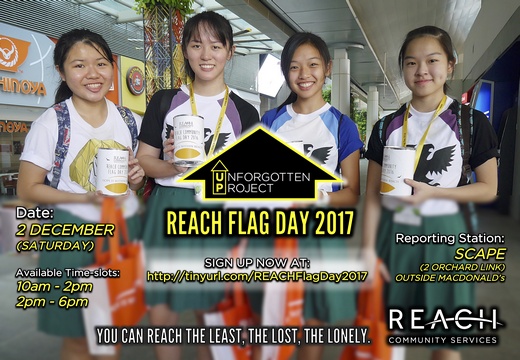 REACH Community Services Society is a charitable organization that serves the needy in the community.
REACH Youth Service, a touch-point of REACH Community Services Society, aims to help youths uncover their hidden strengths and potential as they go through turbulent teenage years. The organisation strives to keep every young person out of the juvenile court system and become a contributing and integrated individual in their own family and community.
REACH Youth Service is embarking on the Unforgotten Project to shed light on the work and stories of the disadvantaged and at-risk youth of today. Together with community and like-minded individuals, they strive to advocate and raise awareness for the youth of today.
This Flag Day, join them and make a difference in the lives of the less privileged.
REACH Youth Service is raising funds in this Flag Day to help:
The Least – Low income and needy families
The Lost – At-risk youths who lost their direction in life, Distressed couples who lost trust in relationships
The Lonely – Lonely and vulnerable seniors
REACH Flag Day 2017 details:
Location: SCAPE
Timing:
10am – 2pm
Sign up link: http://tinyurl.com/FlagDayScape1
2pm – 6pm
Sign up link: http://tinyurl.com/FlagDayScape2
Students will get a chance to assist in the planning and administration of the Flag Day event.
They will be leveraging on technology by using mobile applications in this Flag Day and it will be an interesting experience for the students.
Value in Action (VIA) certificate will be awarded.
To sign up or find out more, Please contact:
Email : yuxiang.wong@reach.org.sg
Tel : 8799-8544