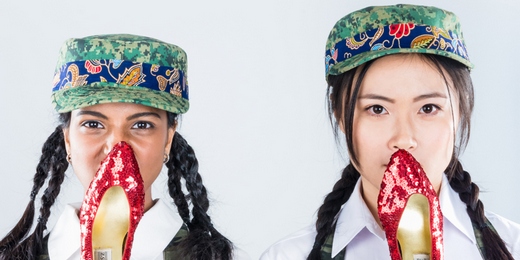 The M1 Singapore Fringe Festival 2018: Let's Walk is calling for volunteers for the following roles:
1. Front-of-House Officers (Theatre and Gallery)
2. Artist Liaison Officers
As a not-for-profit festival, the M1 Singapore Fringe Festival is driven by volunteers to keep the Fringe running smoothly.
The organisers are looking for volunteers aged 16 and above who are interested in the arts, have excellent communication and interpersonal skills, and enjoy meeting and interacting with people.
Volunteering with the Fringe is a fabulous way to contribute to the local arts scene, make new like-minded friends, and get involved with one of the most dynamic events in town!
If you're interested in being a part of the 2018 Fringe, please continue reading for more information and how to apply as a volunteer. Your volunteering can be acknowledged as CIP hours upon request.
For more information, please contact info@singaporefringe.com or (65) 6440 8115, or visit www.singaporefringe.com.
—————————————————————————
Front-of-House (FOH) Officers (Theatre and Gallery)
FOH Officers are the first point of contact for Fringe audiences at the venues, and the organisers are looking for cheerful people who enjoy interacting with others.
Period of commitment:
A minimum of two shifts across various Fringe venues (each shift is approximately 4 hours) during the Fringe period of 17 – 28 January 2018.
General duties include:
– Welcoming visitors to the venue and responding to queries
– Ensuring a smooth and safe experience by briefing visitors, crowd management, ushering, tallying of feedback, etc.
Signup here!
—————————————————————————
Artist Liaison Officers (ALOs)
Artist Liaison Officers are the key point of contact between the international artists and Fringe staff. They work closely with Fringe staff to look after the well-being and schedule of international artists they are attached to for the working period in Singapore. Generally, they serve as good hosts and provide a smooth and positive experience for the international artists.
Period of commitment:
– Average of 5 – 6 days, including arrival and departures days, in January 2018
– Will include early starts and late nights/overnight hours, depending on the production schedule, e.g. 8.30am – 11.30pm for set-up days
General duties include:
– Accompanying the international artists throughout the full Fringe work schedule
– Facilitating transport arrrangements
– Assisting the artists where needed, e.g., purchasing of props
Signup here!
—————————————————————————