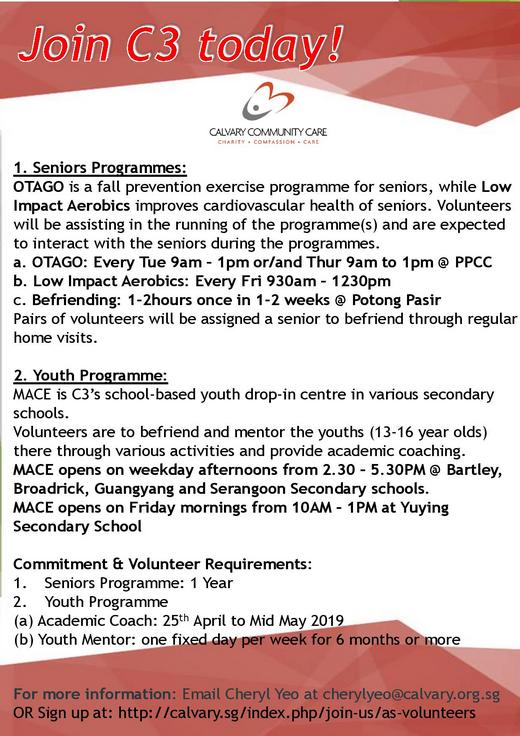 1. C3 Seniors Programmes:
OTAGO is a fall prevention exercise programme for seniors, Rummikub is a boardgame that helps seniors in their mental wellness & Low Impact Aerobics improves cardiovascular health of seniors. Volunteers will be assisting in the running of the programme(s) and are expected to interact with the seniors during the programmes.
a. OTAGO: Every Tue 9am – 1pm or/and Thur 9am to 1pm @ PPCC
b. Rummikub: Every Tues 1pm – 5pm
c. Low Impact Aerobics: Every Fri 10am – 130pm
d. Befriending: 1-2hours once in 1-2 weeks @ Potong Pasir
Pairs of volunteers will be assigned a senior to befriend through regular home visits.
2. C3 Children Programmes: GROW & StoryL.A.B.
GROW (Gain Reading, Oral & Writing skills) was developed by C3 specifically to address the literacy needs of children from low-income/non-English speaking families who struggle with reading proficiency. Story L.A.B. (Literacy Awareness Builders) brings the experience of "bedtime stories" for these children, where volunteers read stories to a small group of children.
a. GROW: Weekdays & Saturdays, 1.5 hour sessions @ various locations
b. StoryL.A.B. : Mondays, 7.15-8.15pm @ PotongPasir CC
3. C3 Youth Programme: PACE
Community based youth drop-in centre at Potong Pasir Community Club.
Volunteers are to conduct activities for the youths (13-16 year olds) there, befriend them and provide academic coaching.
PACE opens every Mon & Wed from 2 to 5pm, Fri 1-4pm
Commitment & Volunteer Requirements:
Seniors Programme: 1 Year
Children Programme: 6 months or more
Youth Programme: one fixed day per week for 6 months or more
For more information: Email Cheryl Yeo at cherylyeo@calvary.org.sg
OR Sign up at: http://calvary.sg/index.php/join-us/as-volunteers