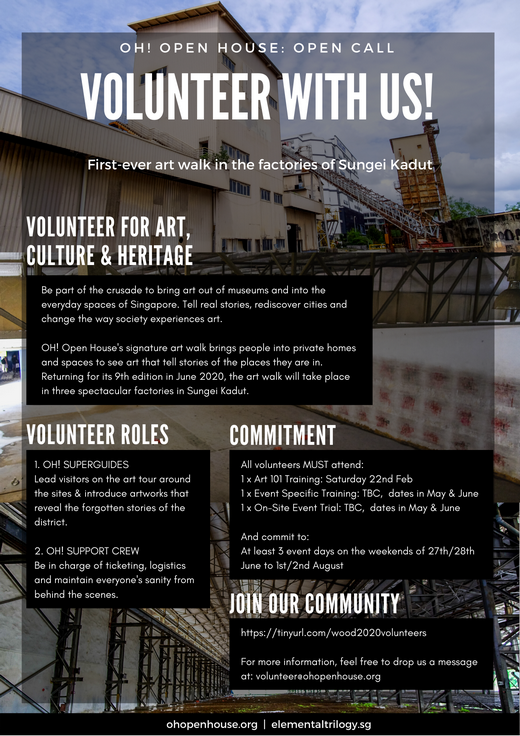 OH! Open House is a non-profit arts organisation which tells alternative stories of Singapore through art. Since 2009, OH! Open House has provided more than 20,000 people with the unique experience of appreciating art and heritage outside of museums and galleries – from strangers' homes to underutilised public spaces.
This year, OH! Open House will be holding its biggest ever art walk across 3 spectacular factories in Sungei Kadut, and talking about man's relationship with nature in a world faced with climate change.
OH! is looking for volunteers to help out!
Be part of the crusade to bring art out of museums and into the everyday spaces of Singapore. If you enjoy real stories, rediscovering cities and changing the way society experiences art, volunteer today!
Time commitment: 6 hours of training (broken down into 3 sessions), plus a minimum of 3 full days of volunteering during event.
Event dates: Weekends only, from 27th/28th June to 1st/2nd August.
Volunteer Roles:
1. OH! SUPERGUIDES – Lead visitors on an art tour around the sites & introduce artworks that reveal the forgotten stories of Singapore's timber industry and how man's relationship with nature will undergo changes in the face of climate change.
2. OH! SUPPORT CREW – Be in charge of ticketing and logistics from behind the scenes.
Training provided, no experience needed!
Sign up here: https://tinyurl.com/wood2020volunteers
Questions? Email volunteer@ohpenhouse.org