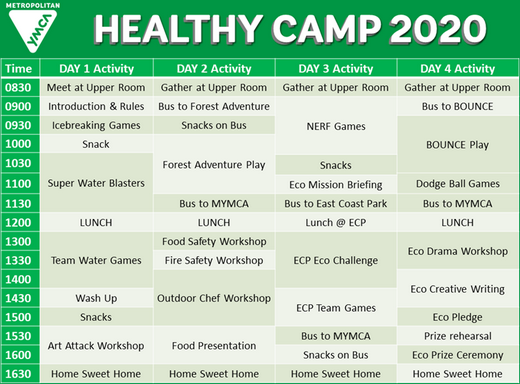 Metropolitan YMCA Singapore (MYMCA) is looking for youth volunteers between the age of 15 to 25 years old to be its Camp Leaders.
Its Learning & Adventure Programmes are for 4-13 years old, and there will be one kids camp this upcoming March school holidays.
MYMCA needs youths who are interested in environmental issues!
Healthy Camp 2020
March 16-19
Daily 0800hrs – 1800hrs
Because the future of Singapore and our world lies in the hands of our children, MYMCA hopes to plant environmental concern in them and perhaps interest them in the broad and important discipline of environmental sustainability. These activities are designed for kids to understand the benefit of being tidier, organized & responsible. The values of being considerate and compassionate will also be emphasised.
MYMCA Learning & Adventure camp programmes focus on character and value development while having fun!
Its core values of Caring, Honesty, Responsibility and Respect shapes the design and guide the facilitation of its activities.
The campers are 5-13 years old.
All volunteers must be trained before leading in the camps.
Volunteers will be taught basic pedagogical approaches, child observation skills and camp facilitation skills.
Training Date: 14 March(Sat), 9pm to 12.30pm
Briefing Date: 14 March(Sat), 2.30pm to 3.30pm
Volunteers must be able to commit for the duration of the specific camp they express interest in!
Your commitment is very important for the experience of the campers.
The form to sign up is here (Volunteers below the age of 18 must get their parents signature on their forms)
To volunteer in this camp, please email your completed form to Daniel Ang at Daniel.Ang@mymca.org.sg.
All shortlisted youths will be contact by the Camp Director.
All of MYMCA's proceeds for camps will fund their outreach projects for communities and the low income families.
If you are interested to volunteer for other MYMCA's projects you can visit https://mymca.org.sg/programmes