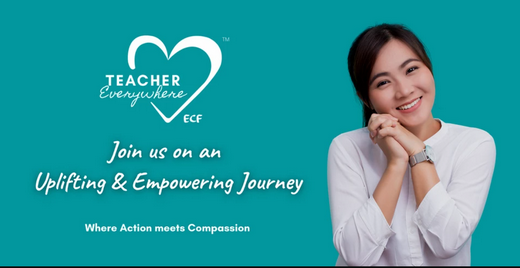 Do you want to make a real difference to children from disadvantaged backgrounds but don't know where to begin?
There are many children who do not have access to basic learning opportunities.
They have never read a book; they do not have exposure to the English Language; many of them do not go to school.
Join today in making a difference in the lives of these 4-6-year-old children by being Volunteer Teachers.
Calling for Teacher Volunteers
1. Attend Teacher Everywhere™ training in Jan 2021 – covering child development, strategies for managing challenging behavior, delivering an effective reading session and other important skills in engaging children. (Trained teachers do not need to attend this)
2. You'll be armed with lesson plans, classroom resources and empowered with support from ECF staff, mentors and fellow volunteers all the way.
3. Starting March 2021, deliver classes at least 4 times a year on Saturday mornings.
Looking for Volunteer Teachers who:
– Are 15 years and above
– Understand and speak English
– Enjoy reading to and interacting with children
– Are able to dedicate at least 4 Saturday mornings (3 hours each time) in a year
– Are committed to complete ECF's Teacher Everywhere training (4 sessions of 3h each + 2 practicums) [Not applicable to qualified teachers]
For further queries, please contact enquiry@ehcommunityfund.org.sg
If you are interested, please register here.