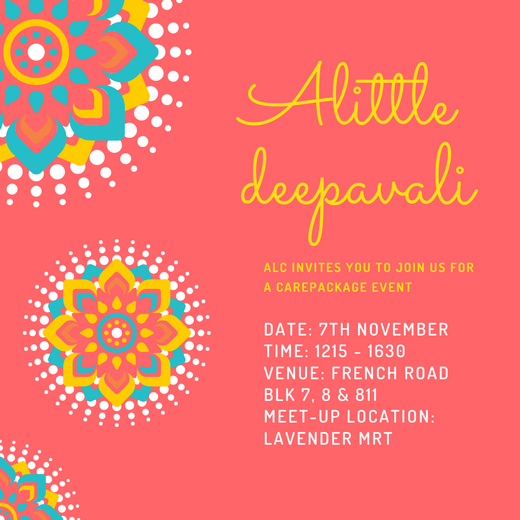 ALittleDeepavali is an initiative run by ALittleChange, a youth-run non-profit organisation that aspires to empower a community of youths to enact positive change in the communuty.
The organisation is currently organising a care package event around the French Road neighbourhood (next to Lavender MRT).
The team will be visiting residents of 1 room rental flats around the area to hand them some presents and engage them in friendly conversations to spread the festive cheer this Deepavali season.
Date: 7th November 2020
Time: 1215 – 1630
Venue: French Road Blk 7, 8 & 811
Meet-up Location: Lavender MRT
This event will consist of:
– Distributing bags of rice, and goodie bags filled with necessities and Deepavali-themed snacks
– Connecting with other like-minded individuals and building rapport with our community partners.
If you would like to help out, please signup at: https://forms.gle/HCedvzxfEZswS3S86