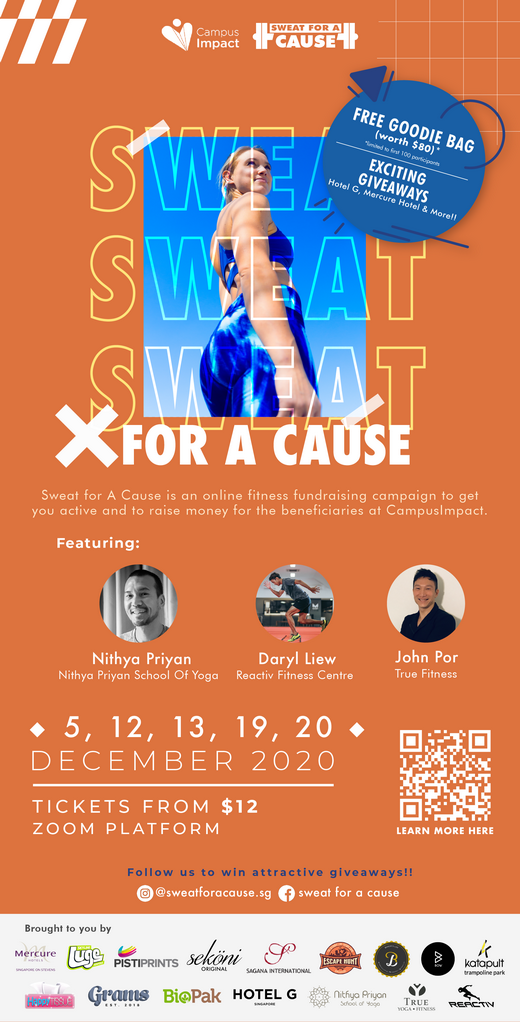 Sweat for A Cause is an online fitness campaign to get active and raise money for the beneficiaries at CampusImpact. 100% of funds received will go to ensuring the continuity of CampusImpact. Through this campaign, participants get to exercise not only to get fit or for their health, but for the younger generations of Singapore. The campaign include exercises and activities to foster a healthy lifestyle and also allows the participants to try something new.
Organised by CampusImpact, the organisation runs many programmes that provide holistic care to youth that are undergoing a transitional phase in their lives and are beginning to define who they are. CampusImpact was founded to address the needs of youths beginning to define who they are as they go through transitional phases in their lives.
About the Beneficiaries
Parents: CampusImpact helps parents resolve parent-child issues through counselling services. Additionally, they receive community support through a networking group which aims to impart effective parenting skills & knowledge.
Children: Youths from primary & secondary schools receive academic assistance, counselling & mentorship sessions. CampusImpact is where they pick up important life skills, build healthy relationships and seek support in tumultuous times.
Families: Families facing various parent-child challenges are supported & benefitted by CampusImpact's face-to-face counselling services. Moreover, family-bonding programmes provide them the opportunity to practise positive communication within the family through activities.
To find out more and how you can help, do visit: https://linktr.ee/sweatforacause.sg
CampusImpact website: https://www.campusimpact.org.sg/
Instagram: https://www.instagram.com/sweatforacause.sg/
Facebook: https://www.facebook.com/events/1524396544412208/