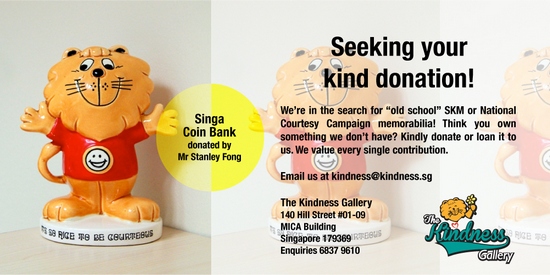 In recent months, the Singapore Kindness Movement (SKM) has been on the lookout for Singa or courtesy campaign artifacts dating back to the launch of the National Courtesy Campaign in 1979. The launch of the Kindness Gallery earlier this year has kept fans and supporters busy rummaging through their personal collections, searching for SKM or National Courtesy Campaign memorabilia to reminisce the good old days growing up with Singa, with roots tracing back to as far as primary school for many. Adults remember the stamps, piggy banks, Styrofoam planes and other "old school" souvenirs they used to collect when they were young.
Having fond and lasting memories of Singa himself, Mr. Stanley Fong, General Manager of Southeast Community Development Council, paid a visit to the Kindness Gallery and was delighted by the opportunity to walk down memory lane of the National Courtesy Campaign. As he was looking intently at each piece of memento of a time past, Stanley suddenly realized that the gallery did not have his childhood Singa collectible, the "Singa Coin Bank". With spontaneity and sincerity, Stanley decided to donate his cherished memorabilia to the Kindness Gallery for the benefit of visitors and Singa fans. The Singapore Kindness Movement is indeed very grateful for his kindness and generosity.
The Kindness Gallery located at 140 Hill Street was opened on 8 March of this year to allow visitors to remember the courtesy or kindness campaigns of yesteryears through numerous displays offering a collection of colourful artefacts showcasing the various stages where courtesy and acts of kindness were encouraged and supported in Singapore.
If you think you own something that is not in the collection, kindly donate or loan it. Remember, "No act of kindness, no matter how small, is ever wasted" – Aesop. Please post a picture on SKM Facebook or email a picture to at kindness@kindness.sg
Written By: Mohammed Farhan Bin Mohd Firdaus
Published by: Singapore Kindness Movement