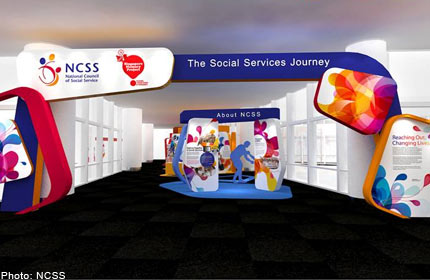 An exhibition showcasing the Singapore story from the social service perspective will be open to the public from October 11 to November 25.
Jointly organised by the National Council of Social Service (NCSS) and the Singapore Memory Project, the exhibition is part of NCSS's 20th Anniversary celebrations.
Titled "The Social Services Journey", it aims to foster a deeper appreciation of the rich heritage of Singapore's social service journey through artefacts and photographs.
For example, the exhibition will bring back the much-loved and familiar sights like the original Sharity Elephant and the share and care ambassador of Community Chest since 1984.
Members of the public will also be able to see old donation boxes used by Community Chest in the past.
Significant past events in the social service landscape have also been weaved into the exhibition through first hand accounts by veterans of the social service sector.
One of them is 92-year-old Mr Sim Miah Kian who will share the story on how he helped to administer the funds raised for victims of the Tiong Bahru fire in 1961.
Members of the public will also be invited to pen down their social service memories at the exhibition.
"Telling the social service story is important for us to retain a sense of our identity, roots and community. We hope to engage and connect with the public through a visual appreciation and audio presentation of the milestones that NCSS has established over the last twenty years," said Ms Ang Bee Lian, Chief Executive Officer of NCSS.
She added that the exhibition serves as a powerful reminder of the shared responsibility of every Singaporean to contribute and reach out to help the disadvantaged among us.
Interested members of the public may view the exhibition at level 9 of the National Library Building.